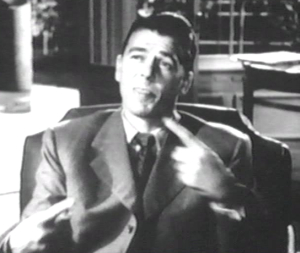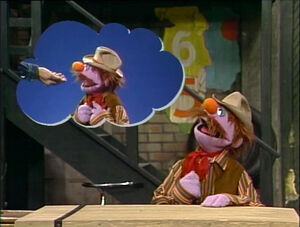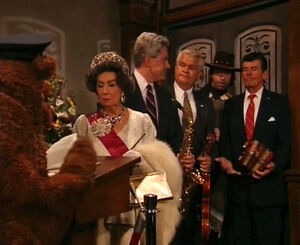 Ronald Reagan (1911-2004) was an actor, Governor of California from 1967 to 1975, and the 40th President of the United States of America from 1981 to 1989. His film career included key roles in Dark Victory, This Is the Army, and Knute Rockne, All American. He was married to Nancy Reagan from 1952 until his death.
As President, Reagan referenced Sesame Street in a November 14, 1985 televised speech prior to the Geneva Summit where he would meet with Mikhail Gorbachev to discuss relations between the United States and the Soviet Union. Expressing a desire for Americans and Soviets to begin relating in personal ways amidst Cold War conditions, Reagan said, "Imagine if people in our nation could see the Bolshoi Ballet again, while Soviet citizens could see American plays and hear groups like the Beach Boys. And how about Soviet children watching Sesame Street?" The remark prompted a response from CTW's Fran Kaufman, "There have been no discussions or negotiations about the series going there. But we're hoping to do a special from the Soviet Union."[1] A co-production with Russia would not happen until eleven years later with the launch of Ulitsa Sezam.
References
In Episode 2478 (1988) of Sesame Street, Forgetful Jones has a close encounter with the Martians. Forgetful imagines such an event would make him worthy of meeting the President. Although the President is not mentioned by name and not shown fully onscreen, Forgetful's imaginary scenario features the President riding in on a horse and offering Forgetful a handful of jelly beans (referencing Reagan's affinity for both the animal and snack treat). Martin P. Robinson voices him offscreen, doing a distinct Reagan imprersonation.
Sources
↑ Associated Press "Sesame Street Still Gets Nyet" by Fred Rothenberg, Nov 24, 1985