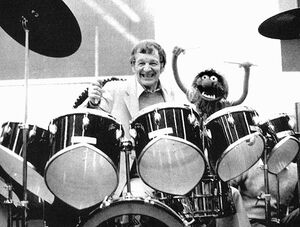 Ronnie Verrell (1926-2002) was an energetic jazz drummer "whose talent was hidden behind a rather formidable front man, Animal."[1] As a member of Jack Parnell's house orchestra for all five seasons of The Muppet Show, Verrell performed the actual drumming for Animal, as well as other drum work.
Verrell's most notable performance occurred in episode 522, performing Animal's frenetic contest with Buddy Rich, Verrell's own idol. Rich likewise held him in regard: "Then, of course, the battle at the end with Animal; to play opposite Ronnie Verrell— one of my all-time favorite drummers, along with Kenny Clare—was a total gas to me. That one week will go down as one of the most positive weeks in my career."[2]
Self-taught, Verrell began playing during WWII, later joining the Ted Heath Band around 1952 (who performed in both England and the United States of America, at one point backing Nat King Cole). Leaving Heath to freelance in 1964,[3] he eventually joined Jack Parnell and would perform as part of his ATV orchestra for ten years, heard on the soundtrack of such series as The Avengers, Thunderbirds, and Captain Scarlet. He backed such performers as Tony Bennett and Shirley Bassey, and played regularly with Tom Jones. Verrell's recording credits, in addition to singles and albums with Heath and Parnell, included performances with such diverse personalities as actor Albert Finney, violinist Yehudi Mehnuin, and Leo Sayer (drumming on his cover of The Beatles' "Let It Be.")
Though sidelined by an auto accident in the 1990s,[4] Verrell continued to perform. From 2000 until the end of his life, he was a member of the touring Best of British band.
Sources
External links
Community content is available under
CC-BY-SA
unless otherwise noted.