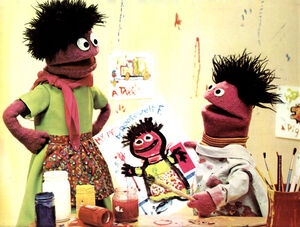 Roosevelt Franklin's Mother is, naturally, the mother of Roosevelt Franklin.
As described by CTW advisor Gerald S. Lesser, Mother Franklin "nags and pushes Roosevelt a little (this does not seem to bother him much), but takes obvious pride in his knowledge and achievements: 'Roosevelt Franklin --he sure does know his numbers!!'"
On the Sesame Street television show, her voice was provided by Loretta Long. However, on the album The Year of Roosevelt Franklin, she was performed by Rosalind Cash. For the Handclapping Number, she was performed by Richard Hunt.
On the TV Special Sesame Street Unpaved, Dr. Long recalled:
She can be seen in the "Rainbow Connection" finale of The Muppet Movie.
Book appearances
Sources
Lesser, Gerald S. Children and Television: Lessons from Sesame Street. New York: Random House, 1974.