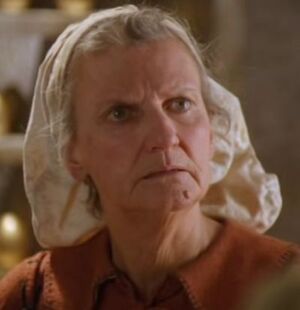 Rosalind Knight (b. 1933) is a British character actress who appeared in Jack and the Beanstalk: The Real Story as Thunderdell's cook (credited as "Hag Lady") in the elder Jack's version of the story.
Knight was heard on BBC radio beginning in 1956, often in guest roles as the girl of the week on sitcoms including Life of Bliss and The Trouble with Toby, and a regular role on Ray's a Laugh. Her earliest films were Carry On Nurse and Carry On Teacher (the second and third entries in the Carry On comedy movies), as well as Blue Murder at St. Trinian's and Tom Jones. Later films included Start the Revolution Without Me (as the beleaguered wife of the aristocratic Gene Wilder twin), the remake of The Lady Vanishes, the musical Mr. Quilp (with David Warner), About a Boy, and The Lady in the Van (with Alex Jennings).
On TV, she appeared in BBC Dickens adaptations of Martin Chuzzlewit and Nicholas Nickleby (two different versions in different roles) and was later a regular on the sitcom Gimme Gimme Gimme (1999-2001) as ex-prostitute landlady Beryl. She made a rare US TV appearance in a Beverly Hillbillies episode shot in England, as well as guest roles (often alternating between aristocrats and servants) on Poirot, Marple, Jeeves and Wooster, Mapp and Lucia, Only Fools and Horses, the Jeremy Brett Adventures of Sherlock Holmes and Sherlock, Doctors, and The Crown (as Princess Andrew of Greece and Denmark).
External links
Community content is available under
CC-BY-SA
unless otherwise noted.