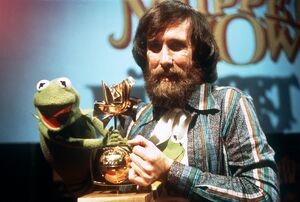 The Rose d'Or, or Golden Rose in its English translation, is a television award which has been given out annually since 1961. The award is focused mainly on entertainment programming, or comedies, therefore excluding dramas and documentaries. The reasoning behind the choices is that dramas and documentaries are often more recognized in awards ceremonies, leaving other genres overlooked.
Beginning in 2004, eight individual awards were given out in eight separate categories, including those for best Reality Show, Game Shows, Soap Opera, Sitcom, and Music, among others.
In 1977, The Muppet Show won a Golden Rose award for excellence in television. The Muppets taped a special message in celebration of the award win. Set backstage in the Muppet Theatre, Kermit the Frog tries to make a speech on their behalf, but is interrupted by Fleet Scribbler, Floyd Pepper, Zoot, Animal and Gorgon Heap (who eats the award). The piece ends in chaos as Crazy Harry begins setting off explosions. Fozzie Bear, Gonzo and Scooter also appear.
Past receipients
External links
Community content is available under
CC-BY-SA
unless otherwise noted.