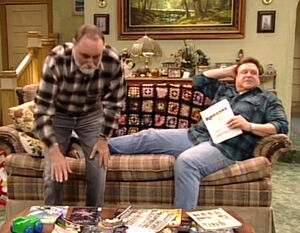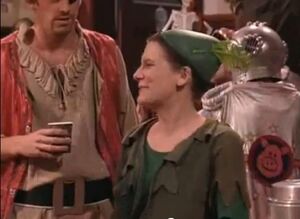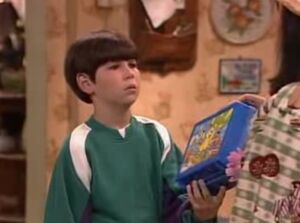 Roseanne is a sitcom which aired on ABC from 1988 to 1997 and returned in 2018. Based on the stand-up comedy of Roseanne Barr, who often joked of her status as a "Domestic Goddess", the series featured the blue-collar working Conner family and the trials and tribulations of their everyday life. The series remained in the top four of the ratings for six of its nine years and received multiple Emmy Awards.
Muppet Mentions
In "Halloween IV", a guest at the Halloween party is wearing a costume of Link Hogthrob in his Pigs in Space costume with a space helmet on his head.
In "Party Politics," DJ complains about carrying his lunch in a big brown bag. After complaining so much, in the ending of the episode, Roseanne has DJ's lunch pack in his old Sesame Street lunch box.
In "Construction Junction", Jackie gets a computer in her house and David is helping her set it up. As David is showing Jackie an ABC software and a counting software for her son, Andy, to play with, Jackie looks at the screen and shouts, "Is that Big Bird?"
In "Roseanne-Feld", Roseanne tells Jackie that she isn't going to be one of those grandmother that spoils their grandchild. Jackie then takes Roseanne's bag and dumps a bunch of dolls and plushes including Elmo out from the bag on to the table. Roseanne replies, "How did that get in there?"
In "Into That Good Night (Part 1)," the Elmo plush is seen on the bed of Darlene and David's new baby room.
References
The show is also spoofed on the KMUP television schedule as "Rosehamme."
In a taped presentation for promotion for the new series Muppets Tonight, Gonzo suggested a surefire alternative: "Roseanne's Funniest Home Improvements, She Wrote."[1]
Connections
Sources
Community content is available under
CC-BY-SA
unless otherwise noted.