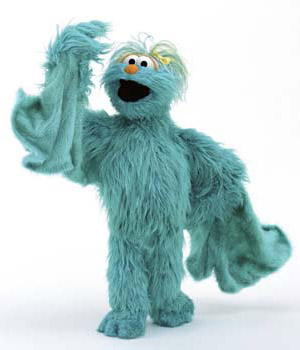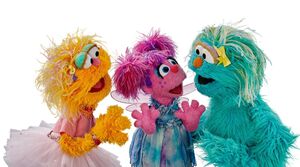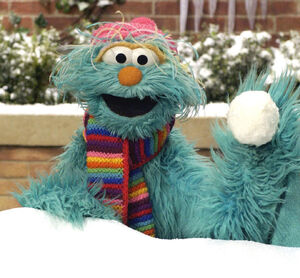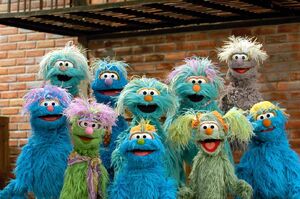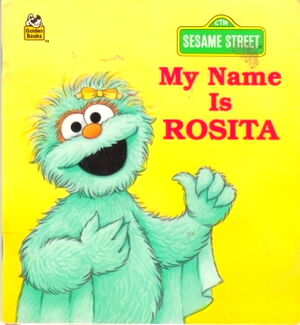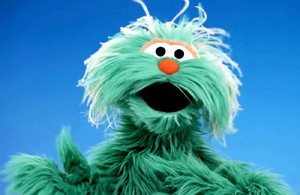 Rosita is a turquoise, bilingual monster who first appeared on Sesame Street in 1991 (Season 23). Hailing from Mexico, her full name is Rosita, la Monstrua de las Cuevas (Rosita, the Monster of the Caves).[1] She is five years old,[2] and celebrates her birthday on December 7. She is the second bilingual Muppet to recur on the show (after Osvaldo the Grouch), speaking both English and Spanish. She is good friends with Zoe, Elmo, Telly Monster, and Abby Cadabby.
Rosita has often presented the Spanish Word of the Day, and features frequently playing her guitar. She's very good with history, as well as geography.[3]
Rosita has an extended family which includes an abuela and other relatives. Her dad, Ricardo, served in the military and is in a wheelchair due to injuries related to his service. He made his debut with Rosita's mom, Rosa, in the 2007 resource video, Talk, Listen, Connect: Changes.
Wings
Rosita originally had wings attached to her arms, reflecting her original concept design as a fruit bat.[1]
Members of Rosita's Family have exhibited the ability to fly, as seen in a 1995 episode where Rosita practices some flying of her own, but has trouble with making landings. In 2017, performer Carmen Osbahr explained that "She couldn't fly but she was able to glide like a flying squirrel. But mainly the big arms with wings were [designed] because she [used] to give very big hugs and to play the guitar."[4]
Her designer Ed Christie went into detail on the puppet's construction in the same social media post:
"

I designed Rosita with wings. Totally my invention. She was described to me as a "monster from the caves". I took it upon myself to reference a bat....and she was a monster that evolved similarly. I also thought (and hoped) that it would have been characterized as a sign of female empowerment...a way for the character to do things the other monsters didn't. It was a sort of superpower built into her species.

Unfortunately, the writers didn't pick up on that. Add to that, it was a great solution to hiding the performers arms....kind of like the way the performer is hidden under Cookie Monster's sack shape. Another thought was that she would do great dance movements - like if she wanted to teach "flamenco". The wings were cut from the fur fabric in such a way to form pleats. They moved beautifully.

One year, while I was no longer in charge of running SS for Henson, she had no wings. I was really pissed off and if I had the opportunity, would have had a meeting or two to defend their existence. I was so determined to make her different than the other monsters. Aggravating! But Carmen continues to do amazing work with her and it's such a joy stumbling across a Rosita performance.[4]"
Beginning with Season 35, Rosita was rebuilt and no longer had wings. Years later, Osbahr revealed that the decision to remove Rosita's wings had never been communicated with her:
"

No! Lol. The first day of Season... I don't remember which one she just didn't have them. It shocked me. It was Production at Sesame Workshop. What they told me was that the people in Merchandise took that decision.

The interesting thing was Rosita doesn't have a lot of merchandise.

I really like the wings. It made her look like a different Monster. Like 20 years ago they wrote a very funny script. Prairie was helping Rosita with her flying and landing. At the end of the show Prairie was wearing a helmet because no matter what Rosita keep landing on her head.[4]"
In a 2011 interview with ToughPigs.com, Rosita offers an explanation for the loss of her wings: she claims that her family flew from their cave (near Snuffy's) during a storm, like a flying squirrel, and she lost her wings.[3]
Notes
Filmography
Book appearances
See also
Sources
↑ 1.0 1.1 Borgenicht, David. Sesame Street Unpaved, 1998.
↑ 3.0 3.1 "Tough Pigs Live From Sesame Street: Abby Cadabby & Rosita" June 2, 2011
↑ 4.0 4.1 4.2 Muppet Wiki on Facebook August 29, 2017
↑ Apodaca, Rose, "Sesame Street's Newest Resident Is Furry, Affectionate and Latina", Los Angeles Times, January 28, 1993.
↑ TVBroadcast.com "Preserving The Value Of Sesame Street" by Debra Kaufman