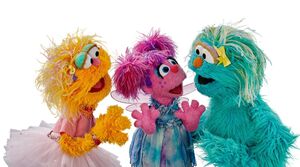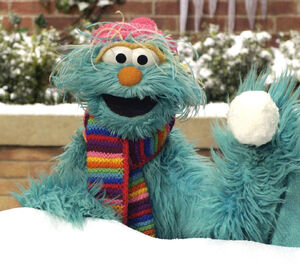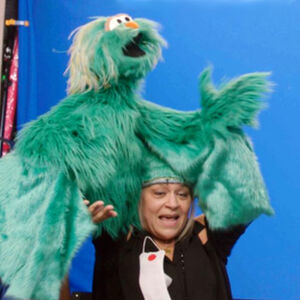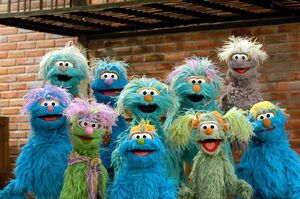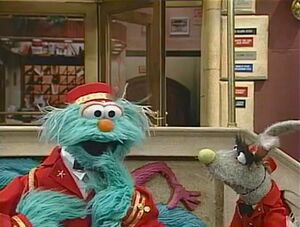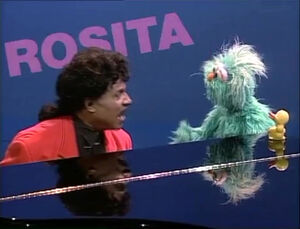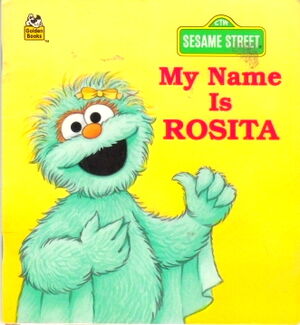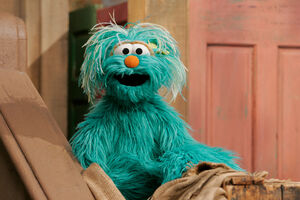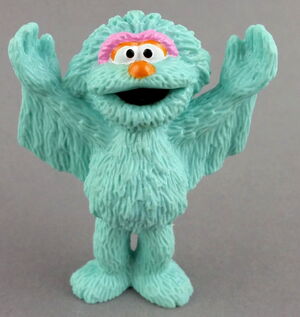 Rosita is a turquoise, bilingual monster who first appeared on Sesame Street in 1991 in Episode 2888 (Season 23). Hailing from Mexico, her full name is Rosita, la Monstrua de las Cuevas (Rosita, the Monster of the Caves).[1] She is five years old,[2] and celebrates her birthday on December 7. She is the second bilingual Muppet to recur on the show (after Osvaldo the Grouch), speaking both English and Spanish.
Rosita has often presented the Spanish Word of the Day, and features frequently playing her guitar, which Luis taught her to do in Episode 3794. She's very good with history, as well as geography.[3]
Rosita has an extended family which includes an abuela and other relatives. Her dad, Ricardo, served in the military and is in a wheelchair due to injuries related to his service. He made his debut with Rosita's mom, Rosa, in the 2008 resource video, Talk, Listen, Connect: Changes.
Development
The idea of a bilingual Muppet character for the show was conceived as early as 1990 by Jim Henson, who allowed Carmen Osbahr to pick what type of character it would be. A monster was ultimately chosen, fearing an indigenous animal might be viewed as politically incorrect. After Henson's passing, Osbahr met with some of the show's creative team to finally develop the character as she became.[4]
Rosita was named after one of Carmen Osbahr's best friends in Mexico, and was originally conceived as "a young girl monster proud of her heritage who encounters problems learning English."[5] Sonia Manzano devised the character's surname "the Monster of the Caves."[6]
Wings
Rosita originally had wings attached to her arms, akin to those of another cave-dwelling creature, the fruit bat.[1]
Members of Rosita's family have exhibited the ability to fly, as seen in Episode 3341 where Rosita practices some flying of her own, but has trouble with making landings. In 2017, performer Carmen Osbahr explained that "She couldn't fly but she was able to glide like a flying squirrel. But mainly the big arms with wings were [designed] because she [used] to give very big hugs and to play the guitar."[7]
Her designer Ed Christie went into detail on the puppet's construction in the same social media post:
Beginning with Season 35, Rosita was rebuilt and no longer had wings. Years later, Osbahr revealed that the decision to remove Rosita's wings had never been communicated with her:
In a 2011 interview with ToughPigs.com, Rosita offers an explanation for the loss of her wings: she claims that her family flew from their cave (near Snuffy's) during a storm, like a flying squirrel, and she lost her wings.[3] A spare Rosita puppet, with the wings intact, continued to be used as Rosita's Abuela.
By 2021, Rosita's wings were reinstated, as first seen in web videos produced for Sesame Workshop's Coming Together initiative.[8]
Notes
Years before Rosita first arrived, Big Bird made friends with a chicken named Rosita on his trip to New Mexico.
Filmography
Album appearances
Book appearances
See also
Sources
↑ 1.0 1.1 Borgenicht, David. Sesame Street Unpaved, 1998.
↑ 3.0 3.1 "Tough Pigs Live From Sesame Street: Abby Cadabby & Rosita" June 2, 2011
↑ Below the Frame, season two, episode two
↑ Apodaca, Rose, "Sesame Street's Newest Resident Is Furry, Affectionate and Latina", Los Angeles Times, January 28, 1993.
↑ Sonia Manzano interview, video interview for the Archive of American Television, conducted on July 15, 2004.
↑ 7.0 7.1 7.2 Muppet Wiki on Facebook August 29, 2017
↑ TVBroadcast.com "Preserving The Value Of Sesame Street" by Debra Kaufman