Several members of Rosita's family have been seen on Sesame Street; members include her father (Ricardo), her mother (Rosa), her grandmother (also known as her abuela), and several unnamed relatives of her extended family.
Rosita's extended family was shown in a Spanish Word of the Day segment, where Rosita introduced the word Familia. (First: Episode 4078) Her extended family also appeared in a Healthy Moment segment. Rosita shows how eating with family is a great way to enjoy food. (First: Episode 4096)
According to Episode 3832 Rosita has an uncle named Eduardo, who she borrows a camera from, and according to Episode 3833, Rosita has an uncle named Carlos who plays the xylophone.
Rosita's mother and father were introduced in Talk, Listen, Connect: Changes.
Performers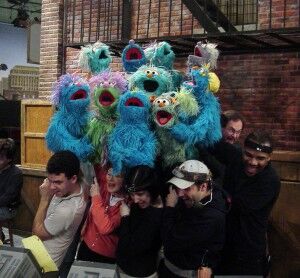 Community content is available under
CC-BY-SA
unless otherwise noted.