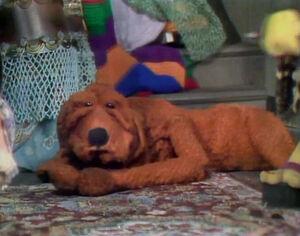 Rover Joe is a hound dog who first appeared in The Muppet Musicians of Bremen. In that special, he was Mean Floyd's dog, thrown out after the superstitious farmer mistook Rover Joe for a ghost. Befriended by Leroy the Donkey, Rover Joe plays the trombone in the animal band, though he initially confuses the instrument with a hambone. Rover Joe is a tired old dog, rejuvenated by the companionship of the other animals and the hope of finding a new family.
Rover Joe later appeared in several episodes of The Muppet Show (often performed by Jim Henson) and The Muppets Take Manhattan.
The puppet was rebuilt during Season 4 of The Muppet Show, with small beady eyes replacing the nearly-closed ones.
In later years, he made cameo appearances alongside his Muppet Musicians bandmates in the first issue of Muppet King Arthur and The Muppet Christmas Carol: The Illustrated Holiday Classic.
Since 2015, the Rover Joe puppet is on display at the Center for Puppetry Arts as part of their permanent Worlds of Puppetry exhibit.
Appearances
Sources