| | |
| --- | --- |
| Written by | Eliphat Oram Lyte |
| Date | 1881 |
| Source | The Franklin Square Song Collection |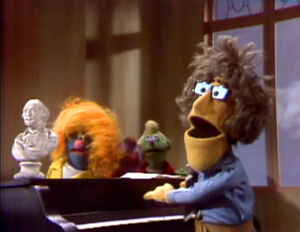 "Row, Row, Row Your Boat" is a traditional nursery rhyme. The repetitive simple song lends itself easily to both singing in a round and parody lyrics.
Sesame Street
Don Music has trouble remembering the last word to the song, and eventually rewrites the whole thing as "Drive, drive, drive your car." in a classic Sesame Street sketch.
Three kids sing "Row, Row, Row Your Boat" as a round in "Elmo's World: Singing".
In a Play with Me Sesame episode Grover tries to sing the song, but can't get the lyrics right, while Prairie Dawn plays the piano. He mange to get it right in the end and Bert and Ernie joins in.
Muppet Babies
Audio releases
Video releases
Community content is available under
CC-BY-SA
unless otherwise noted.