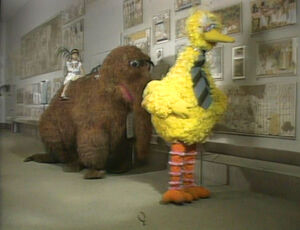 "Rowing Down the Nile" is a song written by Tony Geiss to be used in, but was ultimately cut from, the Sesame Street special, Don't Eat the Pictures.
Big Bird, Snuffy and Prince Sahu happen upon a room in the Metropolitan Museum of Art full of ancient Egyptian paintings, as well as a model of an Egyptian barge, not unlike one Sahu's father owned and fished on. In an effort to cheer Sahu up, the two plop down on a nearby bench and imagine they're on a boat going down the Nile River, with Big Bird singing a song as they go. Their pretend ship passes by several paintings depicting life in ancient Egypt and Sahu describes them to his modern-day compatriots.
The song was to take place between two other musical sequences - "I Want to Be Your Friend" and "Don't Eat the Pictures." In the special as aired, the scene plays out without the musical number or model boat, retaining only the paintings intended to be seen during the song.
See also
Sources