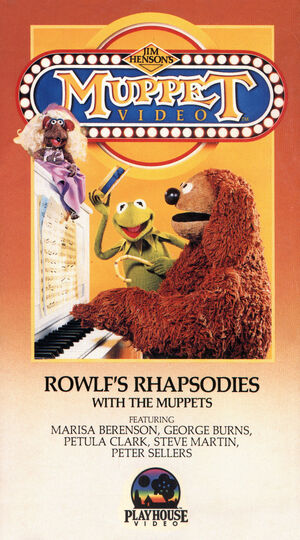 Rowlf's Rhapsodies with the Muppets was released by Playhouse Video in 1985, as part of a series of compilations featuring songs and sketches from The Muppet Show. In this one hour special, Rowlf the Dog presents a compilation of his best numbers and other silly songs from The Muppet Show. Gonzo and Scooter interrupt him several times, and Fozzie Bear and Miss Piggy make appearances as well.
Muppet Show guest star appearances include George Burns, Petula Clark, Peter Sellers, Marisa Berenson and Steve Martin.
This is the only Playhouse Video to have Kermit the Frog absent in new or old footage (though he appears on the cover). While many of the other videos use the fifth season closing theme, this video ends with the version from seasons three and four.
Picture
Segment
Description




FRAME
Rowlf plays "The Muppet Show Theme" on piano as he opens the show, where he will present a "compendium" of the finest of "musical orchestratudes" from The Muppet Show, such as the following...

Song
"Rag Mop"
(Episode 111: Lena Horne)

FRAME
"Ah, 'Rag Mop.' Those lyrics are just as true today as they were when they were written," Rowlf notes. WHOOSH! Gonzo appears and questions Rowlf on the meaning of the word "pachalafaka." It turns out to be neither a Greek pastry stuffed with walnuts and honey, nor a town in Budapest right near the Sea of Goulash. Rowlf turns to the source for the answer.

Song
"Pachalafaka"
(Episode 103: Joel Grey)

FRAME
Rowlf concludes they'll never find out the word's meaning. "Nor shall we ever care," adds Gonzo. Rowlf moves things along by introducing a song by Beethoven, as played by himself.

Song
"Für Elise"
(Episode 117: Ben Vereen)

FRAME
Rowlf is surprised when Scooter shows up, having expected Gonzo to disrupt him again. Scooter tells him, "I wanted to be Gonzo, but my mother wouldn't let me." He then reminds Rowlf that they're supposed to watch George Burns.

Song
"Train Back Home" with George Burns
(Episode 210: George Burns)

FRAME
Rowlf now presents the train George Burns just missed...

Song
"Chattanooga Choo-Choo"
(Episode 210: George Burns)

Song
"I'm So Happy"
(Episode 523: Linda Ronstadt)

Song
Wayne and Wanda: "Some Enchanted Evening"
(Episode 116: Avery Schreiber)

FRAME
Gonzo has a special delivery for Rowlf - a cartoon-style bomb. Rowlf refuses delivery on the grounds that it's used merchandise and tosses it away, where it explodes behind them.

Song
"The Windmills of Your Mind"
(Episode 201: Don Knotts)
After the song, Rowlf briefly segues to the next.

Song
"Down At Papa Joe's"
(Episode 207: Edgar Bergen)

FRAME
Miss Piggy now arrives and suggests that as long as Rowlf is playing silly songs, he should play Petula Clark's "Boy from Ipanema." Rowlf asserts that's not a silly song. "Oh yeah? Wait 'til you see who she's singing it with," Piggy replies.

Song
"The Boy from Ipanema" with Petula Clark
(Episode 220: Petula Clark)

FRAME
Fozzie enters as Piggy exists and has a request of his own - "Can we have no bananas?" The answer of course is "yes," pleasing Fozzie's banana.

Song
"Yes, We Have No Bananas"
(Episode 208: Steve Martin)
After the song, Rowlf briefly segues to the next.

Song
"Tit Willow"
(Episode 120: Valerie Harper)

FRAME
Gonzo happens by, singing the previous song. Rowlf informs him they're focusing on serious music, such as the following...

Song
"Clair de Lune"
(Episode 213: Rudolf Nureyev)

FRAME
Gonzo appears above Rowlf as he sets up the next clip.

Song
"Ramblin' Guy" with Steve Martin
(Episode 208: Steve Martin)
After the song, Rowlf briefly segues to the next.

Song
Two chickens play chimes
Episode 305: Pearl Bailey

FRAME
Scooter interrupts Rowlf with a very important message - your feet's too big!

Song
"Your Feet's Too Big"
Episode 423: Carol Channing

Song
One chicken plays chimes
(Episode 301: Kris Kristofferson & Rita Coolidge)

FRAME
Rowlf discovers Gonzo and Scooter inside his Steindorfer Upright Concert Grand piano (sold to him by Itzhak Perlman after he remembered he's a violinist), where they try to turn it into a wading pool.

Song
"You're Always Welcome at Our House" with Marisa Berenson
(Episode 310: Marisa Berenson)

Song
"Smoke Gets In Your Eyes"
(Episode 202: Zero Mostel)

FRAME
Rowlf dries off his piano as he introduces the next, "serious" song.

Song
"You Light Up My Life"
(Episode 524: Roger Moore)

Song
"The Cat Came Back"
(Episode 523: Linda Ronstadt)

Song
"Minuet in G Major"
(Episode 121: Twiggy)

Song
"Sixty Seconds Got Together"
(Episode 402: Crystal Gayle)

Song
"English Country Garden"
(Episode 218: Jaye P. Morgan)

FRAME
As Rowlf sets up the next song, Scooter delivers another bomb. Rowlf tries to pass it to Gonzo, who's "trying to cut down." Rowlf tosses it away again.

Song
"Cigarettes and Whiskey" with Peter Sellers
(Episode 219: Peter Sellers)

Song
"You'll Never Walk Alone"
(Episode 416: Jonathan Winters)

FRAME
The trio conclude that the caterpillar was walking through Mississippi mud.

Song
"Mississippi Mud"
Episode 118: Phyllis Diller

Song
"Witch Doctor"
(Episode 304: Gilda Radner)

FRAME
Rowlf concludes that today's presentation will commence in a little spanish town...

Song
"In a Little Spanish Town"
(Episode 113: Bruce Forsyth)

FRAME
As Rowlf closes the program, Gonzo delivers yet another bomb. The trio spend the credits trying to pawn it off on the other, until Rowlf finally tosses it into the piano, where it explodes from within.
Community content is available under
CC-BY-SA
unless otherwise noted.