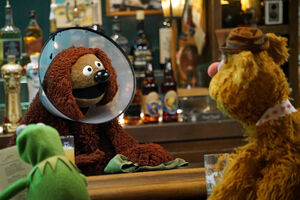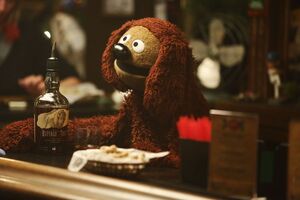 Rowlf's Tavern is the name of the establishment located across the street from the studio where Up Late with Miss Piggy is produced. Rowlf the Dog is the owner and piano player. The Muppets often congregate there after filming the show for drinks, food, and karaoke. The walls are decorated with photos, including a particular one of Rowlf and Jimmy Dean on the set of The Jimmy Dean Show.
The tavern first appeared in The Muppets episode "Bear Left Then Bear Write" when Kermit the Frog and Fozzie Bear grab a beer and discuss Fozzie's idea for a sketch about a porcupine buying dress socks. It also served as the venue for Gonzo's date with Debbie, a woman he'd met online. Liam Hemsworth sits in for Gonzo and he ends up taking her somewhere else to eat.
In "Pig Out", the Up Late crew plan on gathering at Rowlf's as usual after the show, but they find themselves reluctantly inviting Miss Piggy — a situation they usually try to avoid. To their surprise, they actually have a good time with her, singing karaoke and meeting Ed Helms.
Kermit has a drink and talks with Rowlf at the bar in the episode "Pig's in a Blackout."
Kermit and Fozzie have a double date with Denise and Becky in the episode "Too Hot to Handler," where they enter a trivia contest at Rowlf's Tavern.
In "Single All the Way," the Up Late staff have their annual Christmas party at Rowlf's with live music performed by Echosmith.
The Up Late staff is seen at Rowlf's at the end of the episode "Swine Song."
According to the episode "Because... Love," the tavern was created following a flip of a buffalo nickel by Rowlf. The alternative was "Rowlf's Palates Studio."
According to production notes for the show, in order to allow the Muppets to intermingle with human actors, the entire set is built on movable steel deck sections that allow portions fo the floor to be removed. Additionally, the large set has accommodated as many as 30 Muppet performers and 70 human actors along with the production crew and equipment.[1]
The tavern's name appeared during a 2019 skit on America's Got Talent, where Darci Lynne Farmer appeared with Rowlf.

Sources
See also
Community content is available under
CC-BY-SA
unless otherwise noted.