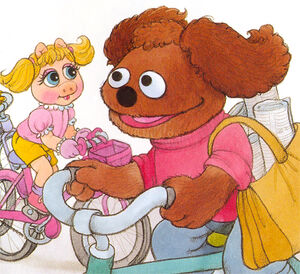 A young version of Rowlf from the Muppet Kids books and video games.
Rowlf is a laid-back pup. He wears blue jeans and a sweater. Rowlf is a talented piano player, and also good at organizing and leading. In Piggy for President, he presides over the group's club meetings and organizes elections.
While Baby Rowlf was a main Muppet Babies cast member, Rowlf plays a minor role in Muppet Kids books. One of his few major appearance is in Piggy Gets the Jitters, where he helps Piggy overcome her fear of public speaking; his other book appearances are minor background roles. He also appears in Miss Piggy's fantasy scene in The Muppets Take Manhattan wearing a diaper and playing a piano.
Rowlf's one starring role is in the book Rowlf's Big Test.
Community content is available under
CC-BY-SA
unless otherwise noted.