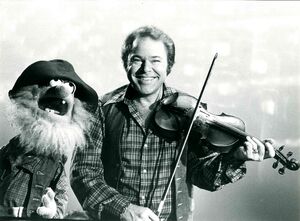 Roy Clark (1933-2018) was a banjo player and country singer best known as co-host of the TV series Hee Haw.
Clark won the U.S. National Banjo championships in 1951 and 1952 and had a string of hits from the early 1960s to the early 1980s. Most notable hits include "Come Live With Me," a #1 hit on Billboard's country singles chart in 1973, and "Yesterday When I Was Young," the latter of which he performed on episode 303 of The Muppet Show.
Clark was recognized as "Entertainer of the Year" by the Country Music Association in 1973.
In 1987, Clark joined Grand Ole Opry.
Connections
Hee Haw was the brainchild of Jim Henson's talent manager, Bernie Brillstein.[1]
Early in his career, Clark was a member of the country music band Jimmy Dean and the Texas Wildcats.[2]
Sources
↑ Brillstein, Bernie; Rensin, David Where Did I Go Right? You're No One in Hollywood Unless Someone Wants You Dead
↑ Dean, Jimmy; Dean, Donna Meade Thirty Years of Sausage, Fifty Years of Ham