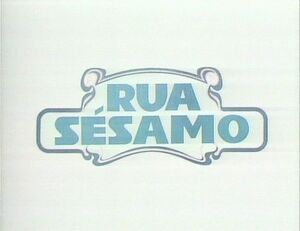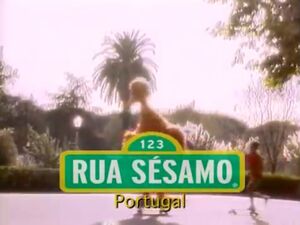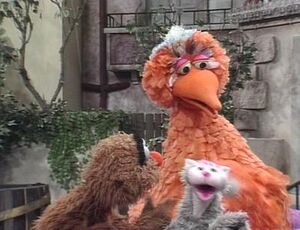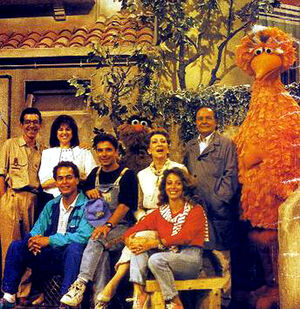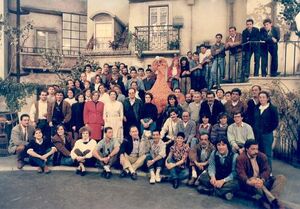 Rua Sésamo is the Portuguese co-production of Sesame Street.
It initially aired for only a short period of time, from 1989 until 1994, however, re-runs and home media releases are popular to this day. It was broadcast by RTP.
Poupas was a full-body character who was nearly identical to Big Bird, except for his orange feathers, his blue and purple feathers on his tail and head and black-and-pink eyelids. Ferrão was a brown Grouch who lived in crates on Rua Sésamo. Tita was a female cat.
Tita also appeared on the US Sesame Street special Sesame Street Stays Up Late.
Episodes
Cast
Puppeteers
Actors
Alexandra Lencastre as Guiomar (season 1-3)
António Anjos as Sr. Almiro
Fernanda Montemor as Avó Chica
Fernando Gomes as Zé Maria
Lúcia Maria as Carolina (seasons 1-3)
Pedro Wilson as Gil (seasons 1-3)
Vítor Norte as André (seasons 1-3)
Ana Luís Martins as Carolina (season 4)
Rita Loureiro as Ana (season 4)
Ricardo Monteiro as António (season 4)
Voices
For the fourth and final season, a dubbing studio in a different location was used. The entire voice cast was replaced, with specific recasts noted when known.
Additional Voices (seasons 1-3)
António Feio, Carlos Freixo, João Perry, Jorge David, Luís Velez, Paulo B., Pedro Alpiarça, Pedro Pinheiro, Vítor Soares, and many others
In November 2008, the first Rua Sésamo version of Sesame Street Live was produced. It was presented by Mandrake in association with Sol, produced by VEE Corporation.
It was a big production with 25 technicians and 23 actors who played Ernie, Bert, Big Bird (called Poupas) and others.
Schedule
11/7/08 - 11/9/08: Europarque (Lisbon)
11/14/08 - 11/16/08: Santa Maria da Feira
11/21/08 - 11/23/08: Figuera Da Foz
Production credits
The cast included: Sérgio Godinho, Nuno Lopes, Henrique Feist, Susana Félix, JP Simões, Tânia Ribas de Oliveira, Paula Oliveira, Filipa Pais, João Nuno Martins and Ricardo Spínola.
Lyrics, direction and translations by Tiago Torres da Silva.
Musical director: Paula Oliveira
See also
External links
Brinco Brincando- Show history, trivia, voice identifications from magazine article
Community content is available under
CC-BY-SA
unless otherwise noted.