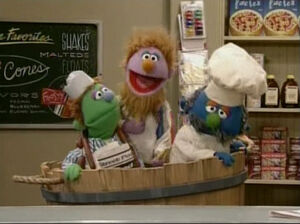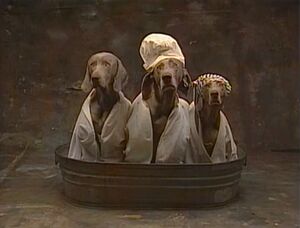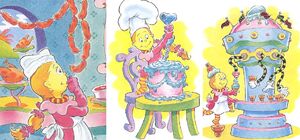 Rub-a-Dub-Dub is an English Nursery Rhyme with many variations. One of the most common is as follows:
"

Rub a dub dub,
Three men in a tub,
And who do you think they be?
The butcher, the baker,
The candlestick maker.
Turn them out, knaves all three.

"
Adaptations
References
In a scene on The Jimmy Dean Show, Rowlf the Dog researches the history of country music. He tells Jimmy Dean that he spent a whole day researching in the back room of country singer Ernest Tubb's record shop, where he claims Ernest was bathing with three of his Texas Troubadours. "I've never heard of such a thing," claims Jimmy. Rowlf replies, "You've never heard of 'Rub-a-dub-bub, three men and a Tubb'?"
In a 2004 episode of Sesame Street, the Three Men in a Tub come to Hooper's Store to answer a want ad for help wanted. It turns out they've answered the right ad (for "Beefsticks, Breadsticks & Candlesticks"), but come to the wrong place.
Community content is available under
CC-BY-SA
unless otherwise noted.