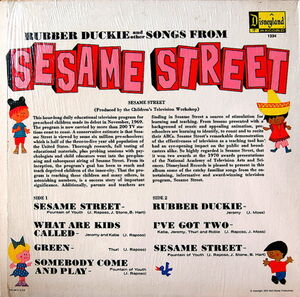 Rubber Duckie and Other Songs From Sesame Street features Disney voice personalities singing Sesame Street songs. Voice-over artist Thurl Ravenscroft (the voice of many ride characters in Disneyland and of Kellogg's Cereal's Tony the Tiger) sings "Bein' Green" (here simply titled "Green") in the character of a nameless frog.
This album features covers of songs that first appeared on The Sesame Street Book & Record. In Japan, this album was combined with Songs from Sesame Street 2 onto one LP.
Track listing
Side One
Side Two
Rubber Duckie - Jeromy Stuart
(Jeff Moss)
I've Got Two - Katie Briggs, Jeromy Stuart, Thurl Ravenscroft and Robie Lester
(Raposo/Moss)
Sesame Street - Fountain of Youth
Other releases
External links
See also
Community content is available under
CC-BY-SA
unless otherwise noted.