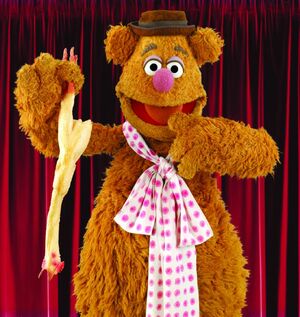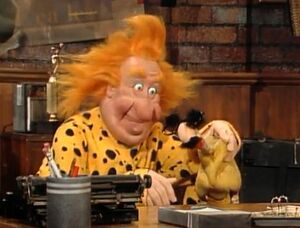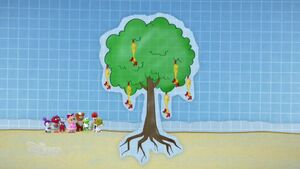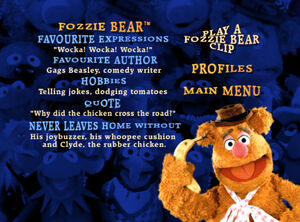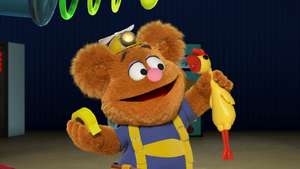 A rubber chicken is a popular novelty toy of a chicken made of rubber and is a prop used in comedy. A rubber chicken is often used by Fozzie Bear (in addition to whoopee cushions, whipped cream pies, banana peels, joy buzzers and Groucho glasses).
In episode 113 of The Muppet Show, Fozzie is certain he has mastered the art of handling hecklers, and so asks Kermit to test him. When Kermit heckles Fozzie, he is hit with a rubber chicken. Fozzie is concerned, however, that the response may be too subtle.
In Sesame Street Episode 2833, Telly and the kids show Gordon what they are bringing on a picnic, including a rubber chicken (in case they find some rubber eggs).
An auditor in a 1992 segment for Good Morning America found several of Fozzie's tax deductions ridiculous, including a $575.00 rubber chicken.
In a 2008 "Fozzie's Comedy School" video produced for Muppets.com, Fozzie teaches about comedy props - including rubber chickens, whoopee cushions, and custard pies. As to why the rubber chicken is funny, Fozzie says "I have no idea, but trust me, use a rubber chicken and you'll never lay an egg."
In a "Jokes! with Fozzie" video (#23), Fozzie starts his routine swinging a rubber chicken around.
Grover comes by selling rubber chickens ("Perfect for any slapstick routine!") in Sesame Street Episode 4609.
See also