Ruby is a yellow, horned monster from Sesame Street who debuted in Season 19 and appeared on the show through Season 23.
She is very curious and loves to conduct experiments. For instance, in Episode 2645, Ruby wanted to find out what it was like to be blind, so she spent the entire day wearing a blindfold. She also greatly admires Gina and often mimics her actions in order to be just like her.
Ruby appeared in the Monsterpiece Theater segment "Guys and Dolls," where she sang about her love for trucks. She also appeared on the bus with Farley in the song "Forty Blocks From My Home."
Ruby also made minor appearances in Sesame Street: 20 and Still Counting and Big Bird's Birthday or Let Me Eat Cake.
Episodic appearances
Notes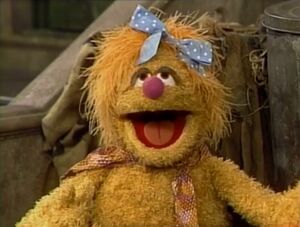 Although her first aired episode was Episode 2432, her first taped episode was Episode 2463 (taped on December 4, 1987). Here, the script and onscreen dialogue refer to the character as "Rudy."[1] The name was changed to "Ruby" by the time Episode 2432 was taped on December 23.
Book appearances
See also
Sources