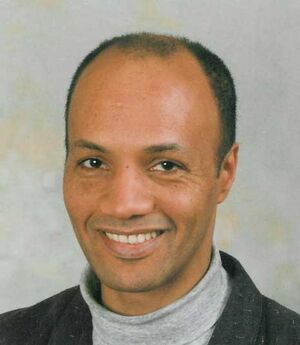 Rudi Kuhn (December 7th, 1951) played Rudy on Sesamstraat, the Dutch co-production of Sesame Street, from 1980 to 1985.
Rudi started his Sesamstraat career as Joyce's assistant in the Sesam Class preschool, interacting with children. Joyce and her preschool disappeared the next season, but Rudi stayed. His most important role was to read a story of the cat Dikkie Dik to kids in the studio.
Rudi was the first Surinamese inhabitant of Sesamstraat. He fit in perfectly with the innovative style of the earlier episodes: a male preschool teacher was quite rolebreaking in these days. A well known group of Dutch comedians known as De Vliegende Panters (The Flying Panthers) performed a classic parody of Rudi reading Dikkie Dik stories to a group of kids in 1999.
When he was 11 years old, Kuhn moved with his family from Suriname to the Netherlands. There, he studied chemical engineering and built a career as a researcher of paints and plastics. After this, he also studied the human body chemistry from a western biological point of view. Later on through guides by Harish Johari, he started to study the same thing, but through a holistic point of view. After many years getting into the material and learning by traveling with Harish through India, he also started showing interests in the storytelling. This was later became a good background for his acting career he briefly followed in the 1980s. Teaching kids and telling stories on Sesamstraat was a perfect way to start.
After his acting career in the 1980s, Kuhn went to trainings, seminars and workshops and mastered yoga teachings. He now gives seminars and lectures himself.  He is also acting in storytelling performances. Inspired by Harish Johari, he started this direction, basically in Hindu and Afro Caribbean stories (like the spider Anansi). He also wrote several books of his own from which he performs.
External Link