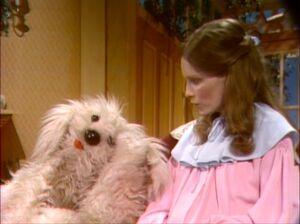 Rufus is a fluffy white dog, originally built in September 1963[1] for the unsold pilot The Land of Tinkerdee, which was filmed August 9th of the next year. In that pilot, Rufus was the watchdog and best friend of Darryl, a human who worked as the gatekeeper of Tinkerdee. Rufus was good-natured and helpful, although clumsy. He was performed here by Jim Henson. The Land of Tinkerdee wasn't picked up, and Rufus was denied his chance at stardom.
Rufus next appeared in the 1970 special Hey Cinderella!, as Cinderella's pet dog. In the special and for further appearances, Rufus doesn't speak; he communicates through gestures and barks. He also appeared in The Muppets Valentine Show in 1974, interacting with guest star Mia Farrow. That same year, Rufus appeared alongside Brewster in Herb Alpert & the Tijuana Brass. In mime, he requested his favorite song to Herb: "Spanish Flea". Rufus also made a cameo in Country Music with the Muppets, miming a request for Roy Rogers and Dale Evans while he had the tape in his mouth, but afterwards getting out a brief line, "thank you."
In 1976, another fluffy white dog puppet was created for The Muppet Show -- J.P. Grosse's dog, Muppy. Muppy had more realistic features than Rufus did, so that he could be switched to a real dog in long shots.
Both Rufus and Muppy can be spotted in The Muppets Take Manhattan (in the scene with Rowlf at the dog shelter, and in the wedding sequence) and in The Muppets at Walt Disney World (during the musical number, "I'm Doggin' It.") Rufus also appeared in three episodes of the first season of Sesame Street (44, 84 and 90); in the audio commentary for I Am Big Bird, Caroll Spinney refers to him as "Flash the Wonder Dog".
Filmography
Sources