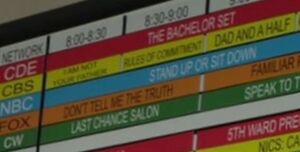 Rules of Engagement is a CBS sitcom which ran from 2007 until 2013. The series follows a long-married couple, a newly engaged sweethearts, and two friends who are single as they deal with the complications of dating, commitment, and marriage. They often gather to enjoy a meal and discuss their issues at the Island Diner.
References
The schedule for CBS shown in the CDE offices in The Muppets spoofs the show as "Rules of Commitment".
Muppet Mentions
In the 2009 episode, "Buyer's Remorse," Russell says to the owner of the Island Diner, "Shouldn't you be in a balcony insulting Muppets?"
In the 2010 episode, "Harassment," Timmy challenges Jeff to a game of cricket to prove it isn't a sport for wimps. During the match, Russell says, "Dude, you're about to be struck out by Scooter from the Muppets!"
Connections