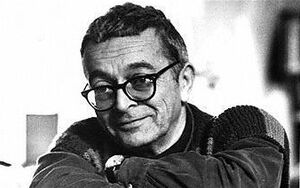 Russell Hoban (1925–2011) was the author of Emmet Otter's Jug-Band Christmas and many other children's books, including the Frances series.
Between 1960 and 1970, Hoban, along with his first wife Lillian as illustrator, created six titles for the popular "Frances" series, including "Bedtime for Frances" (1960) and "Bread and Jam for Frances" (1964). The series was later adapted for television by the Jim Henson Company, utilizing the Henson Digital Puppetry Studio.
Hoban's 60 children's books also include the holiday classic, Emmet Otter's Jug-Band Christmas, which uses elements of O'Henry tale The Gift of the Magi. In 1977, Jim Henson adapted it into a one-hour television special. The special later lead to a stage show by the Henson Company.
Prior to writing children's books, he worked as an illustrator, creating several magazine covers, and as an advertising copywriter. Hoban also wrote adult books in the science fiction and fantasy genres. He lived in London, the setting for nearly all of his novels.
External links
Community content is available under
CC-BY-SA
unless otherwise noted.