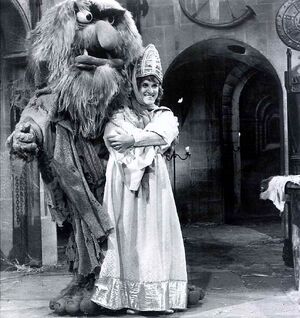 Ruth Buzzi (b. July 24, 1936) is a comic actress best known for her work on the 1960s sketch comedy series Rowan & Martin's Laugh-In, notably playing the drab spinster Gladys Ormphby, continually harassed by dirty old man Tyrone (Arte Johnson). Her other roles on the series included barfly Doris Swizzle and gossip columnist Busy Buzzi. She has been active as an animation voice actress beginning in the sixties and increasing from the 1980s onward.
In 1971, she appeared in the Goldie Hawn TV special Pure Goldie, which also featured Kermit the Frog, and got turned into a Muppet. Buzzi guest-starred on The Muppet Show episode 104 in 1976, and made a brief appearance in The Muppets Go Hollywood in 1979.
Sesame Street
From 1993 to 1999, Buzzi played Ruthie, the owner of the Finders Keepers store, on Sesame Street and in The Adventures of Elmo in Grouchland.
Beginning in 1994, and lasting beyond her tenure as Ruthie, she also performed the voice of Suzie Kabloozie and her cat, Feff, in recurring Sesame Street inserts written and directed by Mo Willems.
In addition, she reprised her Laugh-In character Gladys Ormphby in a number of sketches, including the celebrity version of "A New Way to Walk."
In 1999, she appeared alongside Big Bird and Roscoe Orman to accept a TV Guide Award.
In 2001, Buzzi appeared as the Fairy Godplant in episode 3971, granting Stinky the Stinkweed's wish to be bigger.
Sources
External links