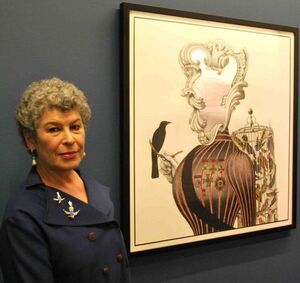 Ruth Marten is an illustrator who contributed to Sesame Street Magazine from 1977 until 1980. Some of her work appeared in The Sesame Street Library volume 13 (The Count and 13 rabbits) and The Sesame Street Treasury volume 10 ("Please Come to My Party").
Early in her career (and then concurrent with her illustration work), Marten was a tattoo artist, from 1972 until 1980. Marten has also contributed illustrations to The New York Times, Rolling Stone, TIME, G.Q., Esquire, and for Columbia Records. She was a fashion illustrator for Vogue and did cover illustrations for the Year in Provence book series by Peter Mayle. She also paints and sculpts for fine art exhibitions. Her work has been shown at the American Musem of Natural History.
External links
Community content is available under
CC-BY-SA
unless otherwise noted.