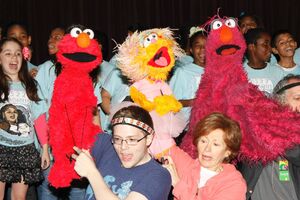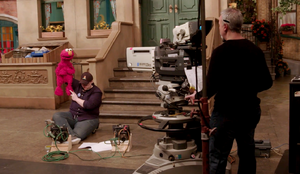 Ryan Dillon (b. May 25, 1988) began puppeteering for Sesame Street in 2005, at the age of 17. He became the performer of Elmo in 2013.
As a young puppeteer, Dillon came to the attention of the Sesame producers when he went to an audition as a high school student. He took time off from school during his senior year to participate in the shooting for Season 37.
In 2020, Dillon won a Daytime Emmy Award for Outstanding Principal Performance in a Daytime Program; for his performances as Elmo, Lefty the Salesman, and Don Music in the special Sesame Street's 50th Anniversary Celebration.
Muppet/Henson credits
Sesame Street: Elmo (2013 - present)
2005 Macy's Thanksgiving Day Parade: Ernie (puppetry only)
2006 Macy's Parade: Hoots (puppetry only)
Sesame Beginnings: right-hand assistance for Nani Bird in Exploring Together and Moving Together
Garden State Film Festival: "How to Get to Sesame Street" puppet workshops, March 24th, 2007
Kids' Favorite Country Songs: AM Cowgirl (finale only)
Learning is Everywhere: AM Dog, AM Fish, right hand and ultimatte assistance, etc.
The Get Healthy Now Show: AM cucumber and yam (finale), right hand assistance, Frankie the Stagehand (in most shots)
Here For You: AM Boy
Kraft MilkBite commercials: Mel the MilkBite
C is for Cooking (title card voice-over)
Fairytale Fun (voice-over for new segments)
The Furchester Hotel: Elmo, Guinea Pig, Mailbird, Elf on Phone, Mr. Peckwood
Sesame Place The Magic of Art: Voice of Mr. McNutty
Julie's Greenroom (credited as Ryan Dylan)
The Muppets Take the Bowl (Nigel, Penguin, Pepe the King Prawn in "With a Little Help from My Friends")
A Swingin' Sesame Street Celebration: Circle, Sirloin Sister
Sesame Street's 50th Anniversary Celebration: Don Music, Lefty the Salesman, Roosevelt Franklin (puppetry)
Non-Muppet Credits
Ohio State Lottery: Reindeer in holiday lottery commercial
Ask Sylvia (Nickelodeon webseries): Sylvia
Stage credits
O'Neill Puppetry Conference 2007

Crossing Boundaries: Cradle To The Grave (Ronald Binion production): Various table-top characters
Take The A Train (Ryan Dillon Production) Estelle, built puppets and directed short piece
Raggedy Ann (Alissa Hunnicutt production) table top assistance
External links
Community content is available under
CC-BY-SA
unless otherwise noted.