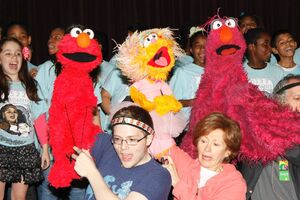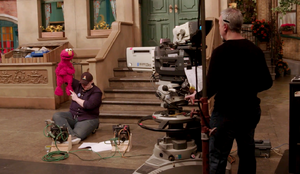 Ryan Dillon (b. May 25, 1988) began puppeteering for Sesame Street in 2005, at the age of 17.
As a high school student, Dillon came to the attention of the Sesame producers when he went to an open call for puppeteers. Kevin Clash immediately assigned Dillon to participate in that year's Macy's Thanksgiving Day Parade, where he performed Ernie on the Sesame Street float, and the taping of Season 37. Dillon received on-screen credit for his first two seasons, for which he assisted and played background roles. After a few years away from the series, he returned to the Sesame fold full-time when he was cast in the major roles of Cooper Monster, a motion capture Muppet, and Paul Ball for the Kinect Sesame Street TV video games.
In 2013, Dillon was selected to take over performing Elmo, following Kevin Clash's departure. He made his first public appearance as Elmo at the White House Easter Egg Roll and has continued to play the character in all forms of media. Dillon's work as Elmo has received Daytime Emmy nominations in 2017 and 2021. In 2020, he won the award for "Outstanding Principal Performance in a Daytime Program" for the special Sesame Street's 50th Anniversary Celebration, in which he took on the classic Muppets Don Music and Lefty the Salesman. In addition to performing, Dillon has directed several seasons of the short-form series, My Sesame Street Friends.[1]
Outside of his Muppet work, Dillon's main project is co-producing puppet web videos with frequent collaborator Mark Gale under the banner The DillonGale Idiots. He previously formed a short-lived puppet building business with Patrick Holmes in the late 2000s. Dillon's early credits include playing Dorsel in the original off-Broadway run of John Tartaglia's ImaginOcean, and puppeteering the title character for the Nickelodeon webseries Ask Sylvia. Through the O'Neill Puppetry Conference, Dillon appeared and worked on productions by Ronald Binion, Terry Lee, Emily Perl Kingsley and others.
Muppet/Henson credits
Sesame Street: Elmo (2013 - present)
2005 Macy's Thanksgiving Day Parade: Ernie (puppetry only)
2006 Macy's Parade: Hoots (puppetry only)
Sesame Beginnings: right-hand assistance for Nani Bird in Exploring Together and Moving Together
Garden State Film Festival: "How to Get to Sesame Street" puppet workshops, March 24th, 2007
Kids' Favorite Country Songs: AM Cowgirl (finale only)
Learning is Everywhere: AM Dog, AM Fish, right hand and ultimatte assistance, etc.
The Get Healthy Now Show: AM cucumber and yam (finale), right hand assistance, Frankie the Stagehand (in most shots)
Here For You: AM Boy
Kraft MilkBite commercials: Mel the MilkBite
C is for Cooking (title card voice-over)
Fairytale Fun (voice-over for new segments)
The Furchester Hotel: Elmo, Guinea Pig, Mailbird, Elf on Phone, Mr. Peckwood
Sesame Place The Magic of Art: Voice of Mr. McNutty
Julie's Greenroom (credited as "Ryan Dylan")
The Muppets Take the Bowl (Nigel, Penguin, Pepe the King Prawn in "With a Little Help from My Friends")
A Swingin' Sesame Street Celebration: Circle, Sirloin Sister
Sesame Street's 50th Anniversary Celebration: Don Music, Lefty the Salesman, Roosevelt Franklin (puppetry)
The Power of We: Anything Muppet boy, Square
See Us Coming Together: Green AM Monster, Brown AM Monster
Animation voices
Directing credits
My Sesame Street Friends (framing scenes)

My Abby (first and second series)
My Sesame Music (first series)
My Cookie Monster (second series)
Sources
External links