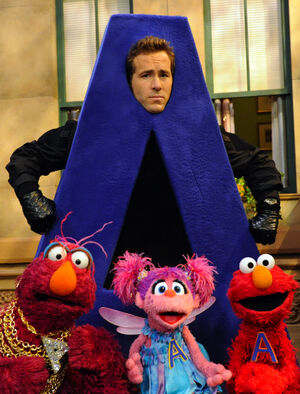 Ryan Reynolds (b. 1976) is a Canadian actor who has appeared in X-Men Origins: Wolverine, Deadpool (with Leslie Uggams), Harold & Kumar Go to White Castle (with Kal Penn), Green Lantern (with Tim Robbins and his wife Blake Lively), and The Proposal (with Sandra Bullock and Betty White).
Reynolds made an appearance on Sesame Street in Episode 4225. He plays the letter A in "The A-Team" street scene, as well as "The Elmo Slide" video.
In 2012, Reynolds spoke to Empire magazine about his favorite Muppet: "Gonzo. I like a mentally unhinged creature with a fist up his ass. Call me crazy, throw me in jail, go ahead - that's what I'm into."[2]
Parodying an infamous leaked audio clip of Kanye West having a meltdown behind-the-scenes on Saturday Night Live in February 2016, Reynolds released an audio reel of his own meltdown on SNL in which he says he's 10% more influential than Barbara Bush, The Muppets, and Bob Newhart. (YouTube)
External links
Sources