Premiere
2016
Network
TV Cultura
TV Brasil
Seasons
1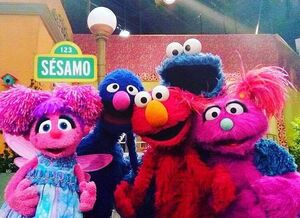 Sésamo is a Brazilian Sesame Street co-production, replacing Vila Sésamo, airing on TV Cultura and TV Brasil. The first six episodes of the show were broadcast as a sneak peak of the series on December 19-24, 2016, with the full season debuting in March 2017.
The series stars Elmo, Grover, Cookie Monster, Abby Cadabby and Bel (the only carryover from Vila Sésamo) in framing scenes. Each episode features many short-form segments, including Bert and Ernie's Great Adventures, Abby's Flying Fairy School, "Elmo's World," "Elmo the Musical," "Super Grover 2.0," "Cookie's Crumby Pictures" and "O Desafio do Elmo." Episodes also feature appearances by local celebrities.
Episodes
Contação de histórias (Storytelling)
Pensamento, reflexão e concentração (Thought, reflection and concentration)
Insetos (Insects)
Cantar (Sing)
Novas tecnologias de informação e comunicação (New information and communication technologies)
Super-heróis e fantasias (Super Heroes and Fantasies)
Performers
External links
Community content is available under
CC-BY-SA
unless otherwise noted.