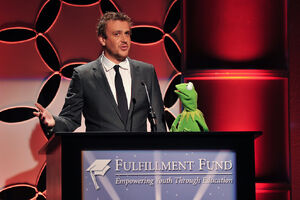 STARS Benefit Gala is an annual event hosted by the Fulfillment Fund, a "college access organization" for low-income, first-generation American students.
Jason Segel and Kermit the Frog served as co-masters of ceremony at the 17th Annual STARS Benefit Gala, held at The Beverly Hilton Hotel on November 1, 2011 in Beverly Hills, California.
The STARS 2011 award went to Rich Ross, CEO of the Walt Disney Company, and Madeleine and Tom Sherak. In attendance were Selena Gomez, Eva Longoria, Sidney Portier, and the theatrical cast of The Lion King.
External links