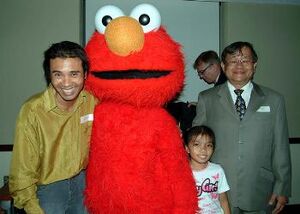 Sabai Sabai Sesame (Happy Happy Sesame) is the Cambodian version of Sesame Street. The series featured animation, film clips and Muppet segments from Sesame Street, dubbed into Khmer.
The show began airing twice a week on Apsara TV-11 in Phnom Penh on December 13, 2005.[1] The program aired through the end of 2006.[2]
The show is produced by Sesame Workshop in collaboration with Educational Television Cambodia, with funding provided by the United States Embassy in Phnom Penh.
Peter Wilson, the President and CEO of Educational Television Cambodia, said, "In addition to the educational value of broadcasting Sabai Sabai Sesame, it has been tremendously gratifying to work with the many talented Cambodian actors, musicians and television technicians who made the production possible... Our partners at Babel Studios and Seven Colours have done superb work dubbing Sesame Workshop's program into Khmer. When Cambodian children see Muppets speaking their language, their mouths drop open in utter amazement."[1]
Sources
↑ 1.0 1.1 "Paving the Way for Sesame Street in Cambodia", Sesame Workshop press release. December 7, 2005.
Community content is available under
CC-BY-SA
unless otherwise noted.