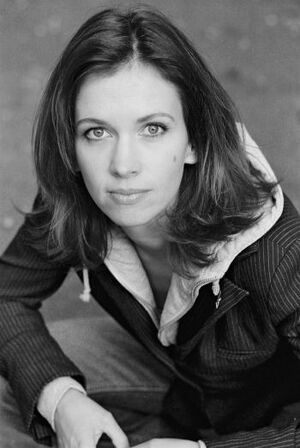 Sabine Bohlmann (b. 1969) is a German actress, author and voice over artist, most famous as the German voice of Lisa and Maggie Simpson on The Simpsons.
Her prominent roles in Muppet productions include Kuschel in Das Hasenpicknick (The Tale of the Bunny Picnic), Äpfelchen in Die wundersame Geschichte vom Weihnachtsspielzeug (The Christmas Toy), and Marie Dodo in Bibos abenteuerliche Flucht (Follow That Bird). She was most recently heard lending her voice to Wanda in Die Muppets.
Mostly active in children's television dubbing, she was heard in nearly every animated children's show of the 1980s and 1990s, whether as a regular or a guest voice.
Her animation dubbing roles include Cubbi Gummi on Disney's Adventures of the Gummi Bears, Kenny McCormick, Ike Broflovski and Heidi Turner on South Park, Marcie on The Charlie Brown and Snoopy Show, Ling-Ling on Drawn Together, Isabella on Phineas and Ferb, Sailor Moon on the first season of Sailor Moon, and Pikachu (season 1) and Misty on Pokémon. Live-action dubbing includes Shirley Henderson in the Harry Potter series, as well as several roles on Doctor Who.
External links