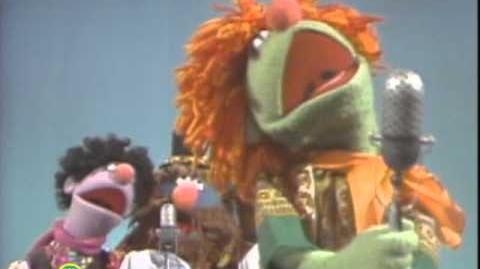 "Sad" is a Sesame Street song sung by Little Jerry and the Monotones. The song talks about how it's ok to feel sad and to cry when bad things happen. Little Jerry enumerates some of the things that he's sad about. At the end of the song, Big Jeffy tells him that's it's ok to cry if he feels sad, but that it makes him sad to see Little Jerry so upset. Everybody else in the number feels so sorry for him that they start to cry as well, leading the whole band to break down in sobs while forming a group hug.
A clip of the song was used in the street plot of Episode 2452. An abridged version of the tune was covered by Elmo, Little Chrissy, and Big Jeffy in Episode 2867. A section of the original Monotones recording was lip-synced to by Prince and the Charmings in Episode 2708.
Notes
Releases
Audio
Online
Community content is available under
CC-BY-SA
unless otherwise noted.