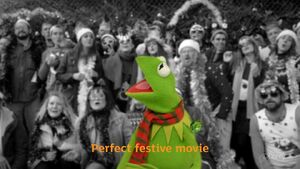 Sainsbury's is a United Kingdom supermarket chain established in 1869.
In 2017, Kermit the Frog made a cameo appearance in Sainsbury's annual Christmas commercial. The commercial is made up of brief, black-and-white clips of members of the public, each singing a line of the ad's song, "Every Bit of Christmas". There are two celebrity cameos in the 1:49 ad: Kermit and Ricky Tomlinson, star of the British sitcom The Royle Family. Tomlinson's presence in the ad is a reference to the many Royle Family Christmas specials, and Kermit's is a reference to the beloved 1992 film The Muppet Christmas Carol.
Kermit sings the first three words in his verse: "Perfect festive movie / Every bit of this / Random family, who's he? / Every bit of this".