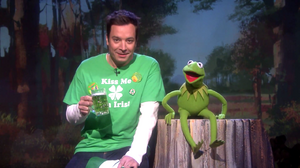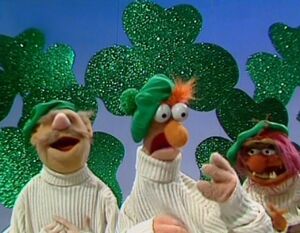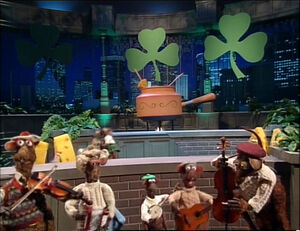 Saint Patrick's Day is a holiday held on March 17th to commemorate the death of Ireland's patron saint.
Celebration practices include wearing green, celebratory parades, displaying shamrocks, celebrating Irish culture and folklore (including leprechauns), drinking beer and whiskey, and various religious observances.
A number of St. Patrick's Day parades have feature Muppet floats and balloons including Jackson, Mississippi in 2010, Toronto, Canada in 2012, and Syracuse, NY in 2014.
Kermit the Frog appeared on The Tonight Show Starring Jimmy Fallon on Saint Patrick's Day 2014 and sang "Bein' Green" with Fallon. Fallon hinted to Variety that there was a special Saint Patrick's Day skit. "There could be something green happening — wink, wink," Fallon said.[1]
References
Merchandise
See also
Sources