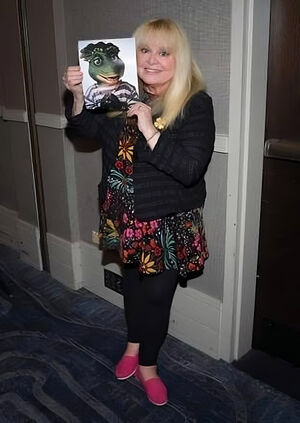 Sally Struthers (b. 1947) is an actor most well known for playing Gloria Stivic on All in the Family.
In 1976, she appeared in a Sesame Street film highlighting wheelchair races (First: Episode 0898). She later voiced Charlene Sinclair for four seasons on Dinosaurs.
Struthers also voiced various television characters, such as Rebecca Cunningham on Disney's Tale Spin and Babette Dell on Gilmore Girls.
References
During the frantic final moments of the Muppet Show Pitch Reel, a newspaper behind Leo bears the sub-headline "Muppets Hire Sally Struthers As Agent."
External links