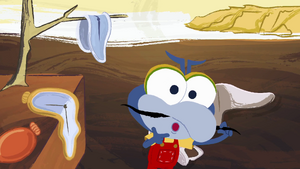 </gallery> Salvador Dalí (1904-1989) was a 20th century surrealist painter most famous for his "melting clocks" painting, The Persistence of Memory.
References
Dalí was also referenced in a scene in the 1975 pilot The Muppet Show: Sex and Violence. The clocks on the wall of the main production room show the times in various cities in one scene; in another scene, the clocks have changed to a cubist "Picasso" clock, a melting "Dalí" clock, and a blank "Anonymous" clock.
The Cookie Thief features a spoof of Dalí's The Persistence of Memory, titled The Persistence of Cookies.
The melted clock dangling on the tree branch in The Persistence of Memory appears in an Alphaquest segment as a "wilted watch."