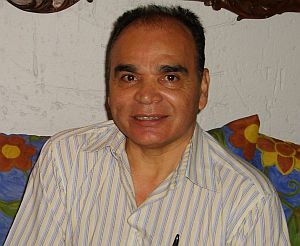 Salvador Nájar is a Mexican voice actor who dubbed Kermit the Frog (La Rana René) on Plaza Sésamo beginning in 1972. When the Mexican dub of The Muppet Show arrived, Jose María Iglesias took over. Nájar resumed the role in the late 1990s, in dubs of the later skits as well as specials such as CinderElmo.
Active in Mexican dubbing since the 1960s, Najar originally played child or adolescent roles, notably the older Thumper in Bambi, Wart in The Sword in the Stone, and Rusty on the live-action series Rin Tin Tin.
He has dubbed such actors as Mark Hamill in the original Star Wars dubs (including his guest appearance on The Muppet Show), Steve Martin in over ten movies (including Bowfinger), Kevin Pollak in four, Eddie Murphy in The Adventures of Pluto Nash and The Haunted Mansion, John C. McGinley in Identity and Stealing Harvard, John Candy in Uncle Buck, Rowan Atkinson in Scooby-Doo, and Rick Moranis in Little Giants. On TV, he was the Spanish voice of Micky Dolenz on the 1950s TV series Circus Boy, Dom DeLuise on the revival of Candid Camera, and Donny Osmond on The Donny and Marie Show. Animation roles include Pepe LePew in Space Jam and Looney Tunes: Back in Action, Luigi in Cars, Inspector Gadget, Huckleberry Hound and Top Cat in various Hanna-Barbera specials, Fritz/Petunia in Meet the Robinsons, and Tony the Tiger in commercials.
External links
Official Site- contains an in-progress history of dubbing in Mexico
Community content is available under
CC-BY-SA
unless otherwise noted.