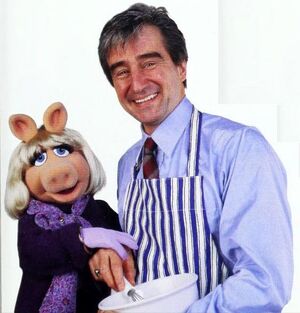 Sam Waterston (b. 1940) is an actor best known for his role as Jack McCoy (first Executive ADA, later DA) on Law & Order (1994-2010) and in various spin-offs and cross-overs.
Waterston contributed a recipe to Miss Piggy's 1996 cookbook, In the Kitchen with Miss Piggy: "Graham's Famous Omelet, as told to Sam Waterston by his son Graham." Miss Piggy praises "Samuel" for being such a gentleman (always letting Piggy order the extra large onion rings).
Waterston's stage work includes several Broadway plays, winning a Drama Desk Award in 1973 for Benedick in Much Ado About Nothing. Film credits include the 1974 version of The Great Gatsby (as Nick Carraway, opposite Robert Redford), several Woody Allen movies (Interiors, Hannah and Her Sisters, Crimes and Misdemeanors), and 1984's The Killing Fields (earning an Oscar nomination for Best Actor).
On TV, he played a different district attorney, Forrest Bedford, on the period drama I'll Fly Away (1991-1993) and was later a regular as boss Charlie Skinner on The Newsroom (2012-2014) and as Sol on the Netflix sitcom Grace and Frankie (with Lily Tomlin, Jane Fonda, and Martin Sheen). Waterston has also been a frequent portrayer of Abraham Lincoln, including Gore Vidal's 1988 miniseries Lincoln, in voice-over in Ken Burns The Civil War, the 1993 Broadway revival of Abe Lincoln in Illinois, and other productions and events.
External links
Community content is available under
CC-BY-SA
unless otherwise noted.