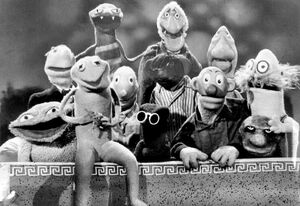 Sam and Friends was Jim Henson's first television series, a five-minute show that aired twice daily on WRC-TV, the NBC affiliate in Washington, D.C. from May 9, 1955 to December 15, 1961.
The title character was a humanoid named Sam, but a more enduring star of the series was Kermit, who was not yet a frog. Other characters included the voracious Yorick, beatnik Harry the Hipster, excitable Professor Madcliffe, Chicken Liver and utility players Hank and Frank. Other characters possessed more ephemeral personalities, and in many cases, their existence is defined only by photographs and surviving puppets. This roster includes Mushmellon, Icky Gunk, Henrietta, Omar, Moldy Hay and the earliest Muppet star, Pierre the French Rat, amongst others. Characters were performed by Henson and Jane Nebel, with Bob Payne (who joined in 1958 to substitute for a Europe-bound Henson) and Jerry Juhl filling in for Nebel in the final season.
The series was heavily reliant, particularly in its earliest installments, on puppet characters lip-syncing to records, usually novelty songs or comedy routines from the likes of Stan Freberg, Bob and Ray, Spike Jones, Ken Nordine, and Louis Prima and Keely Smith, amongst others. Henson experimented with character voices in such sketches as "Visual Thinking," and in commercials for the show's sponsor, Esskay Meats. Though the earliest skits were in black and white, later sketches such as "Poisen to Poisen" were transmitted in color.
Some of the show's original puppets have appeared on display in museum exhibits such as the Muppets and Mechanisms: Jim Henson's Legacy exhibit at The Smithsonian Institution (which later became a part of the Smithsonian's permanent collection), and the Worlds of Puppetry exhibit at the Center for Puppetry Arts.
Episodes
Existing
According to the Jim Henson Company Archives, very few of the original shorts have survived over the years. In the days before videotape, shows would have to be deliberately recorded on kinescope by pointing a film camera at a video monitor. Jim Henson "rarely bothered to record his programs, unless he was trying out a new technique or wanted to review a particular aspect of his performance."[1] While video footage for the series is limited, the archives posses over 400 audio recordings of the show between 1958 and 1961.[2][3]
Some of the existing spots can be viewed at The Paley Center for Media; others are shown at special screening events at venues such as the Museum of the Moving Image. As airdates are mostly unknown, segments are listed here alphabetically by the most well-documented title (with the exception of the final episode).
Picture
Episode
Description

C'est Si Bon
In a French village setting, Moldy Hay lipsynchs to Stan Freberg's rendition of "C'est Si Bon," with Hank and Frank repeating his dialogue too literally as backup choir.

Chef Omar
Omar prepares a chef salad, which blows up in his face when he serves it flaming.[4]

Glow Worm
Humming along to "The Glow-Worm", Kermit is bugged by some inchworm-like fingers and is later met with a human hand, who tickles him off the wall.[4]

A Horse Named Bill
Kermit lipsynchs and plays the banjo to a recording of "A Horse Named Bill". This sketch is sometimes called "Loona" (referencing the singer's object of affection, Luna) when featured in exhibits.

Hunger is From
Lipsynching to "Hunger is From", Yorick details his midnight snacking while eating a plate full of food.

Huntley and Brinkley
In a parody of The Huntley-Brinkley Report, Kermit hosts an interview with NBC News anchormen Chet Huntley and David Brinkley (as played by Hank and Frank).

I've Got You Under My Skin
Icky Gunk, and Hank and Frank serve as chorus singers in a lipsynched rendition of Stan Freberg's "I've Got You Under My Skin" while Kermit, in spoken dialogue, messes up the lyrics.

Poison to Poison
Lipsynching to the Spike Jones track "Poisen to Poisen", Harry the Hipster (as "Ed Burrow") interviews Chicken Liver (as Alfred Hitchcock) in his rather horrifying home.

Powder-Burn
A pun-filled Gunsmoke parody with Marshall Dilly (Chicken Liver) preparing for a showdown with Black Bart (Yorick) which results in a game of chess.

Singin' in the Rain
A little girl Muppet lipsynchs to a double-speed version of "Singin' in the Rain". The scene ends with her submerged in a bucket of water.

That Old Black Magic
(1957)
Kermit and Sam lipsynch to a recording of "That Old Black Magic" by Louis Prima and Keely Smith.

Visual Thinking
(1959)
In a mix of puppetry and animation, Harry demonstrates the art of Visual Thinking to Kermit -- and what it does to you once it gets out of control.

The Westerners
Lipsynching to the Bob and Ray recording The Westerners, Kermit and Chicken Liver are two cowboys who are having a little trouble getting off their horses. This sketch is sometimes called "Riding Horses Backwards" in exhibitions.

Weather Warehouse
Harry demonstrates to a skeptical Kermit his new business for selling weather, and gives him a tour of the warehouse.[5]

The Yellow Rose of Texas
(1955)[6]
Kermit lipsynchs to a Stan Freberg recording of "The Yellow Rose of Texas" and deals with an out-of-control drummer.

Final Episode
(December 15, 1961)
Kermit sings a song, then discusses the end of the series with Harry -- who blows up all the scenery and equipment since they won't need it anymore.[7]
Documented
While video footage exists for some segments, others have been documented either by the Henson Archives or newspaper articles published while Sam and Friends was still on the air.
The Muppets made regular appearances on Today beginning in 1961. Some of these segments were performed from their Sam and Friends set, communicating with Today hosts via satellite. One such performance of "Yes! We Have No Bananas" is documented in Time and Again; whether these segments were also done on Sam and Friends is unknown.
Stan Freberg himself pops his head into frame and criticizes the Muppets for using his records without giving him credit. Kermit says "here's a little credit" and pounds him back out of frame with a mallet.[10]
One sketch spoofed NBC news program, Meet the Press.[13]
In The Muppet Show episode 218, Kermit introduces "Tweedle Dee" as "the very first piece of material the Muppets ever did ... about 23 years ago." This may have been on Sam and Friends.
A sad love song is sung by a Muppet who holds a picture of his lady-love upside-down.[15]
One segment involves a character running around frantically looking for a hammer to use on his rocket.[15]
Other documented segments from 1955 to 1958 include "Henrietta's Wedding," "There's a Hole in the Bucket," "I Like People," "La Ploop de ma Tante," "Mrs. Murphy's Chowder," "The Frozen Logger," "I Wonder When I Shall be Married," "I Only Have Eyes for You," "Good Peanuts," "Down the Drain," "Two Face West" (a spoken comedy routine), "The Johnson Boys," "Sunset Strip," "I Gotta Grow," "Listen to the Gooney Bird," "Miss Cone," Snow Medley ("I've Got My Love," "Let It Snow," and "Winter Wonderland"), "Jingle Bells," "Shada Wada Do," "The Last Time I Saw Paris," "Side by Side," "The Reluctant Cannibal," "Love Poems - Togetherness," "Are You Lonesome Tonight," "Hey, Look Me Over," and "If You Felt Like I Did When We Said Goodbye."[16]
Documented segments from approximately 1958 include "Barnacle Bill," "I Went to Your Wedding," "Good Old Mountain Dew," "Lay Something on the Bar," "Kids Down on the Corner," "Your Feet's Too Big," "I Know an Old Lady," "Herman Horne on Hi-Fi," "That's My Boy," "When the Crabgrass Blooms Again," "Good Old Days," "Autumn in New York," "Abominable Snowman," "Elderly Man River," "Life Gets Teejus Don't It," "Old Philosopher," "Proud New Father," "Wild Bill Hiccup," and "The Matador."[16]
October 13, 1958 featured "The Big Introduction," in which Kermit presents an elaborate re-introduction to the show's cast for the benefit of Bernice, who is not familiar with anyone on the show (and vice versa).[16]
One segment, from approximately December 1959, has Professor Madcliffe disrupting a musical performance by Kermit due to a union rule. Kermit brings in Harry and Yorick to play a song instead.[16]
The October 7, 1960 edition of the show was based around the WRC-TV news department stealing the Sam and Friends equipment to prepare for the Presidential debate occurring between Richard Nixon and John F. Kennedy later that night.[17]
Occasionally, there would be week-long story arcs, including the characters driving from Baltimore to Washington, D.C., and Yorick's family coming to visit and devouring the studio.[18]
Gallery
See also
Sources
External links