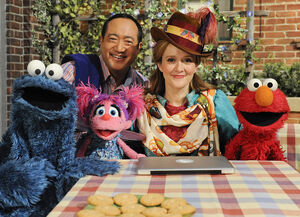 Samantha Bee (b. 1969) is an actress and comedian most well known as a correspondent for The Daily Show.
She appears on Sesame Street in Season 42 as Mother Goose.[1]
Bee's husband and fellow Daily Show correspondent, Jason Jones also appeared in the 42nd season of Sesame Street.
Among Bee's other credits are appearances on Law & Order, Rescue Me and the feature film The Love Guru (with Mike Myers and Justin Timberlake).
Muppet mentions
Bee's weekly TBS show, Full Frontal with Samantha Bee has mentioned the Muppets.
On June 28, 2016, the show's Twitter account tweeted a CNN screencap of Donald Trump speaking in front of a wall of garbage, juxtaposed with a screencap of Marjory the Trash Heap from Fraggle Rock, captioned "Who wore it best."
On July 25, 2016, in a web extra segment (YouTube), Bee covered the response of conservative commentator Scottie Nell Hughes to Democratic vice-presidential nominee Tim Kaine's use of Spanish. Hughes worried that she'd have to "brush up" on her Dora the Explorer in preparation for the Democratic National Convention. Bee retorted, in reference to Donald Trump: "I hope I don't have to brush up on my Sesame Street to understand what's being said by your nasty garbage monster."

On May 31, 2017, Bee reported that lawyers for President Trump "even got Trump to cancel a rally in Iowa. Which is like Cookie Monster going on a diet; it might be better for you, but it's not what you're about, man."
Sources
External links