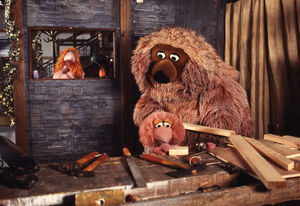 Samson is a character from Sesamstrasse, the German co-production of Sesame Street.
Together with bird Tiffy, he was one of the first two local Muppets on Sesamstrasse, and remained a regular character until 2010. Episodes featuring the character as a regular re-aired until 2014. Samson had his latest appearances in a series of live performances with Ernie, Bert and the NDR radio philharmonic orchestra in the winter of 2013,[1] and appears in promotional material for the 40th anniversary of the show. The character also made later guest appearances on Sesamstrasse, appearing with Elmo in his tree house.
Characterization
Samson is a sweet, big shaggy brown bear. He has a black spot on his nose and two large sneakers on his feet. He is big and tough, and a little clumsy.
Samson lives in a cave, and he loves lying in his hammock, cuddling with his "Schnuffeltuch" (his security blanket), and dancing. His best friend is Tiffy. Samson is best known for saying "uuiuuiuui!" ('oy oy oy!') when he's confused, and for his trademark song "Ich bin Samson, und ich schaff's!" (I am Samson, and I can do anything).
Samson represents the psychological age of a five year old.
History
Samson has been the main full body character on Sesamstrasse since the German street sequences started in 1978. Like the early Muppets on the show, he was designed and built by Kermit Love. In the documentary Samson und das Krümelmonster, Kermit Love explains how Samson was originally created as a teddy bear, since teddy bears were very popular in Germany. The teddy bear 'grew and grew, until he became Samson'. According to Kermit Love, children are not afraid to be trampled by the giant bear: he is their friend, because he is a puppet. Since Samson is a walkaround character, most of his body language comes from his feet and the way he walks, which is why his shoes are so large.
Trivia
Samson has a cousin named Simson who looks exactly like him, except that Simson wears different colored sneakers and a straw hat/bow tie ensemble, which gets later replaced by a large baseball cap. Simson was made from the old Samson costume #2, and appeared numerous times during the 1990s.
See also
Sources