m

(Adding categories)

(2 intermediate revisions by one other user not shown)
Line 24:
Line 24:
 

*[[Can You Tell Me How to Get to Sesame Street? (exhibit)|Can You Tell Me How to Get to Sesame Street?]] was an exhibition at the Bay Area Discovery Museum in San Francisco, May 8 - September 19, 2004.

 

*[[Can You Tell Me How to Get to Sesame Street? (exhibit)|Can You Tell Me How to Get to Sesame Street?]] was an exhibition at the Bay Area Discovery Museum in San Francisco, May 8 - September 19, 2004.

 
 
−

* ''[[The Art of the Muppets]]'' was featured at the de Young Museum Hall of Flowers in San Francisco, June 27 - August 2, 1981.

+

* ''[[The Art of the Muppets]] was featured at the de Young Museum Hall of Flowers in San Francisco, June 27 - August 2, 1981.

 
 
 

* The [[Sesame Street Cast Tours|Sesame Street Cast Tour]] started its national tour in September 1970 before a crowd of 15,000 at San Francisco's Golden Gate Park (where a reporter described the event as a "preschooler's [[Woodstock Festival|Woodstock]]").

 

* The [[Sesame Street Cast Tours|Sesame Street Cast Tour]] started its national tour in September 1970 before a crowd of 15,000 at San Francisco's Golden Gate Park (where a reporter described the event as a "preschooler's [[Woodstock Festival|Woodstock]]").

Line 42:
Line 42:
 

==Sources==

 

==Sources==

 

<references />

 

<references />

 
+
 
+

__NOWYSIWYG__

 

[[Category:Real World Locations]]

 

[[Category:Real World Locations]]

 
+

[[Category:Location References]]
---
Revision as of 03:11, 12 March 2020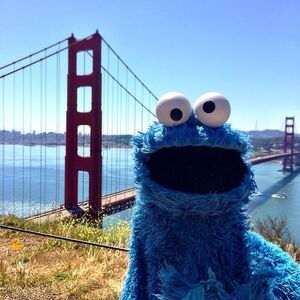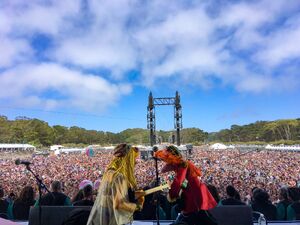 San Francisco is both a city and county in California. It is the second-most densely populated large city in the United States after New York City, and is one of the top tourist destinations in the world.
References
The second half of the 1997 film George of the Jungle, which includes animatronic effects by Jim Henson's Creature Shop, takes place in San Francisco. George makes a daring rescue of a worker stranded at the top of the Golden Gate Bridge.
In a Sesame Street filmed insert, college students volunteer at the San Francisco Children's Zoo, which has such animals as ferrets, opossums, and chinchillas. (EKA: Episode 2227)
Muppets, Music & Magic was featured at The Yerba Buena Center for the Arts, which is housed in San Francisco, June 21 - July 1, 2007.
The Art of the Muppets was featured at the de Young Museum Hall of Flowers in San Francisco, June 27 - August 2, 1981.
The Sesame Street Cast Tour started its national tour in September 1970 before a crowd of 15,000 at San Francisco's Golden Gate Park (where a reporter described the event as a "preschooler's Woodstock").
Cookie Monster made a round of live appearances in the San Francisco bay area on May 13, 2014, when he attended the PBS Annual Meeting,[1] also swinging by a SF Giants game and an Off the Grid gathering in Daly City.[2] In the meantime, Maker Faire in the bay area's San Mateo debuted a Snuffy 3D-print to announce the partnership between Sesame Workshop and 3-D printer maker MakerBot.[3]
Sources