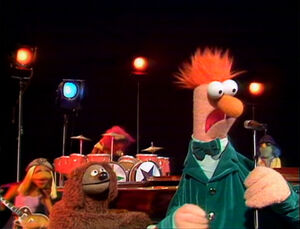 The Muppets have been featured in many unofficial fan-edited lip-sync videos. These videos take existing footage from Muppet productions and attempt to sync the mouth movements to other audio in order to make a music video.
Often the comedy of these video comes from the juxtaposition of the child-friendly characters and performing songs with adult-themes (such as the Muppets of Sesame Street performing hardcore gangsta rap). When asked why he thinks the Muppets are such a popular vehicle for these parodies, Michael DiSalvo (editor of one popular Muppet lip dub video) said, "Growing up, everyone loved the Muppets, but they were always so innocent. It's fun to apply their whimsical and childish look to adult themes. It's so out of place, that it's entertaining."[1]
Early unofficial Muppet lip dub examples included characters synced to Coldplay, Metallica, AC/DC, Kanye West, and the Beastie Boys. As early as 2006, fan-made Muppet lip sync videos were shared on video-sharing sites such as YouTube. However due to music rights, many of the videos have been removed (or audio muted) over the years due to copyright claims from the music publishers.
A notable Muppet lip dub video came in 2008; released under the title "Hilarious Muppets Bloopers!" the video featured Beaker (using video from his performance of "Feelings" on The Muppet Show) synced to Rick Astley song "Never Gonna Give You Up" and playing off the bait-and-switch Rickrolling meme. The original video, and re-postings of it, have gained over 10-million views. (YouTube)
In late 2008, the Muppets embraced the concept with their own official lip-dub video. A "blooper reel" was released by the Muppets Studio using outtakes from A Muppets Christmas: Letters to Santa synced to the song "Glad All Over" by the Dave Clark Five. (YouTube)
As recent as 2014 and 2015, new videos continue to get viral attention with The Muppets often becoming world-wide "trending topics" on Facebook and Twitter as new videos spread across the Internet.
Examples
The Muppets sing "Master of Puppets" by Metallica
Published August 2007 (YouTube)

The Muppets sing "Highway to Hell" by AC/DC
Published April 2009 (YouTube)

The Muppets sing "Back in Black" by AC/DC
Published May 2010 (YouTube)

The Sesame Street Muppets sing "Sure Shot" by the Beastie Boys
Published July 2011 by The Wonderful Creative Agency (Vimeo
Sources
See also