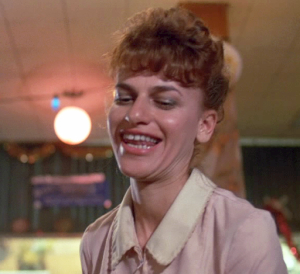 Sandra Bernhard (b. 1955) is a comedienne and actress well-known for, amongst other accomplishments, her 1990 one-woman off-Broadway show, Without You I'm Nothing and her role as Nancy Bartlett on Roseanne.
In 1985, she appeared in Follow That Bird as the Grouch Waitress at the Don't Drop Inn.
Bernhard's other credits include guest spots on Law & Order: Special Victims Unit, Dragnet, Alfred Hitchcock Presents and Plump Fiction, voice work on American Dad!, Superman: The Animated Series, Spider-Man, Dr. Katz, Professional Therapist, Pee-Wee's Playhouse and the 1983 film The King of Comedy.
External links