Santa Claus is a traditional, secular figure of Christmas good cheer, generally depicted as a jolly fat, old man in a red suit. Other nations have their own variations, such as Father Christmas in England and Sinterklaas in the Netherlands.
Santa has appeared in several Muppet/Sesame Street specials over the years, portrayed by different human actors and occasionally depicted as a Muppet. Muppet characters have sometimes felt the urge to don the familiar beard as well.
Santa Claus as a character
Picture
Portrayer
Production / Notes
Arthur Godfrey

The Ed Sullivan Show December 24, 1967

Santa appears alongside Scudge, Gleep, and other monsters in a brief holiday sketch. Set entirely in his workshop, the monsters attempt to steal toys until Santa shows them kindness by giving them the playthings as a present.

unknown

"Santa Claus" appeared as one of the ball guests, telling one of the Stepsisters that she reminded him of Rudolph the Red-Nosed Reindeer.

Art Carney

This was Santa's first extended appearance in a Muppet production. Santa is an amiable figure, kind even to Cosmo Scam. He is also a hopeless amateur magician, forever practicing card tricks.

unknown

Fraggle Rock "Manny's Land of Carpets"

Uncle Traveling Matt encounters a department store Santa, who he assumes is a magical wish giving creature.

Anything Muppet

A Pumpkin Anything Muppet (Frank Oz) appears as Santa Claus, apparently unsure of his own identity.

Anything Muppet

In another News Flash sketch, Kermit the Frog encounters a Fat Blue Santa (Kevin Clash), hoping to find out how he gets down the chimney.

Whatnot

The Muppet Show episode 305

A Whatnot Santa appears during the line "everything's coming up sunshine and Santa Claus..."

Jon Stone
(voice)

Big Bird sits out on the roof of 123 Sesame Street to catch Santa in the act of delivering presents. Santa appears when Big Bird dozes off and is only seen in shadow, disappearing the moment Big Bird awakes. His voice (provided by Jon Stone)[1] is previously heard over a telephone swallowed by Cookie Monster.

Stone also plays the narrator of the audio adaptation who gradually reveals himself to be Santa Claus.

animated, silent

Santa Claus whizzes by, as the lyrics of the song "Good Things Happen in the Dark" mention him by name.

Tony Geiss

A goodwill Santa stands in front of The Furry Arms Hotel.

Charles Durning

This Santa is rather crotchety and frustrated by the side effects of Elmo's wish for having Christmas every day. He also gets to sing "Every Day Can't Be Christmas."

Charles Edward Hall

Elmo travels to the North Pole near the end of the special.

Dave "Squatch" Ward

Fozzie runs into a compassionate Salvation Army Santa, and accidentally leaves his sack of money with him.

Jay Brazeau

In a deleted scene, a jolly Santa, apparently convinced he's the real deal, regretfully informs Kermit that he can't appear in their big holiday production.

Muppet Poser

Macy's Windows, 2002

A poser puppet of Santa Claus helms his sleigh in the Macy's window display.

Charles Edward Hall

Radio City Music Hall, 2005

Kermit with the Rockettes and Santa during Kermit's 50th Anniversary Tour.

Kevin James

Kevin James shows another side of Santa Claus when he is issued a speeding ticket.

Richard Griffiths

The Muppets race to make sure that three letters make their way to Santa.

Anything Muppet

Santa visits Ernie and Bert in their German apartment.

unknown

Calling Elmo on the "video phone".

Brad Oscar

Santa Claus performs "Rudolph the Red-Nosed Reindeer" with Kermit the Frog at The White House, and later joins him for a sing-along rendition of "Jingle Bells" and "Winter Wonderland."

Craig Robinson

Santa joins the Muppets' party with Cee Lo Green.

unknown

Santa Claus joined Miss Piggy, President Barak Obama, Michelle Obama, Reese Witherspoon and others for a sing-along rendition of "Jingle Bells."

Jim Gaffigan

In the bedtime story told to Elmo, Santa visits Sesame Street for the first time after the spirit of kindness has been brought to the neighborhood. Santa later visits Elmo's bedroom while he is asleep.

Anything Muppet

Santa Claus visits the Furchester Hotel, bringing gifts to all the guests who presumed he'd miss them due to their re-locating.

Anything Muppet

On the twelfth day of Christmas, Santa (Ryan Dillon)[2] brings Cookie Monster twelve snowman cookies.

unknown

Santa appears in an animated silhouette, on-screen with his face obscured, and in voiceover provided by Tyler Bunch.

Matt Danner

The Muppet Babies almost run into Santa while traveling to Planet Gonzo.
Characters dressing as Santa Claus
Picture
Portrayer
Production / Notes
Baby Animal

Muppet Babies, "Pigerella"

Baby Animal dressed up as Santa to show who would come down the chimney that Baby Piggy must clean.

Baby Kermit

Baby Kermit Christmas squeeze toy from 1989.

Bert

Bert dresses as Santa in this German TV special from 1975.

Bert and Ernie

Sesame Street Magazine, December 1977

Bert and Ernie collaborate as Santa Claus.

Bert

Epi, Blas y los demás, 1978/1979

Bert dresses as Santa Claus.

Bert

Bert takes part in Rumpel's Christmas song as Santa on Die Grosse Sesamstrassen-Musikshow.

Big Bird

Big Bird taking on the role of Santa with Snuffy taking on the role of the reindeer.

The Big Bad Wolf

The wolf dresses as Santa to infiltrate Sandy Pig's home.

Bobo the Bear

Bobo is asked to fill in for the absent Santa.

Cactus

A cactus is seen in the background of the Muppets' Halloween party dressed as Santa.

Clifford

CBS This Morning December 16, 1994

Clifford dresses as Santa Claus for a Muppet Christmas medley (Kermit states it was originally supposed to be Fozzie).

Cookie Monster

Cookie Monster dresses as Santa in order to trick Elmo out of his plate of cookies.

Cookie Monster

The ABCs of COVID-19, third special

Cosmo Scam

Cosmo Scam poses as Santa.

Doc

Doc appears as Santa at the end of the special, passing out presents.

Doc Hogg

Doc appears as "Santa Hogg" at the Woodland Valley Mall.

Elmo

promotional photo

Used in Sesame Street marketing and social media.

Elmo

Mini plush of Elmo dressed as Santa Claus.

Ernie

Sesame Street calendar, unknown year

Ernie appears as Santa, with Bert as his reindeer.

Fozzie Bear

Fozzie dresses as Santa for the Muppet Magazine Christmas party.

Fozzie Bear

Fozzie dresses as a salvation army Santa for the number "The Pleasure of Your Company."

Fozzie Bear

The Muppets "Single All the Way"

Fozzie almost doesn't play Santa on Up Late with Miss Piggy because Becky broke up with him, but after a reassuring phone call, he decides to play Santa after all.

Gonzo

The Muppet Show episode 517

Gonzo's chickens play the part of Santa's reindeer in a holiday mix-up medley.

Grover

Grover takes on the role of Santa Claus to leave presents on Sesame Street.

Grover

Sesame Workshop 2014 Kid's Holiday Party

Grover dressed as Santa for the 2014 family holiday party.

Herry Monster

Herry dresses as Santa Claus to help collect toys and food for needy families.

Herry Monster

Sesamstrasse magazine

Herry dresses as Santa Claus on a 1980 Sesamstrasse magazine cover.

Junior Gorg

Junior Gorg dressed as Santa sweater.

Kermit the Frog

Kermit plays the role of Santa coming down the chimney.

Kermit the Frog

Kermit dresses as Santa, with Miss Piggy holding mistletoe over his head, in a 1977 wall decoration by Hallmark. The same picture can be seen in the dressing rooms on The Muppet Show and the front cover of the March 8, 1979 issue of Lhiton.

Kermit the Frog

In 1981, Hallmark made a poseable wall decoration with Kermit dressed as Santa.

Kermit the Frog

Remake of the 1977 Hallmark photo.

Kermit the Frog

Kermit is dressed as Santa on the cover of the Winter 1987 issue of Muppet Magazine with Pee-Wee Herman and his stocking.

Kermit the Frog

Kermit delivered his traditional holiday introduction for The Christmas Toy after climbing down the chimney.

Kermit the Frog

Released in 1990 by Presents, a division of Hamilton Gifts.

Kermit the Frog

Good Morning America December 23, 1997

Santa Kermit & his frog elves stop by the studio "to wish everybody a happy season" and sing "Jingle Bells."

Kermit the Frog

Kermit is pictured on the cover of the sheet music book dressed as Santa Claus.

Kermit the Frog

In 2003, Sababa sold a grayscale Kermit plush doll dressed in a pantsless, red Santa Claus costume.

Miss Piggy

Santa Claus can't make it for Christmas Day, so Miss Piggy cheers up Robin by dressing up as Mother Christmas in "Kermit's Christmas Diary".

Miss Piggy

Promotional images

Miss Piggy dresses up as Santa Claus in several promotional images from the mid-2000s, on one occasion letting Kermit borrow her hat.

Oscar the Grouch

Christmas Carole transforms Oscar when he won't come out of his can.

Pops

Pops plays a department store Santa entertaining Robin on his knee.

Rowlf

Rowlf is dressed as Santa in the December 24, 1964 episode.

Sesamstrasse cast

The official website's annual advent calendar features Elmo, Pferd, Ernie, Wolle, Bert, Grobi, Finchen and Krümelmonster in Santa hats and beards.

Mr. Snuffleupagus

Snuffy assumes the role of Santa for scientific purposes, in an attempt to demonstrate how someone as large as Santa can fit down a tiny chimney.

a Snuffleupagus

Sesame Street Episode 3295

At the Snuffleupagus-American Day Parade, one Snuffleupagus portrays "Snuffleupa-Claus."

The Swedish Chef

The Santa Chef Action Figure was released as Palisades' 2004 holiday figure.

Taminella Grinderfall

Taminella poses as Santa as part of her scheme to steal Princess Gwendolinda's birthday presents.

Two-Headed Monster

The Monster plays jolly Saint Nick in the Sesame Street gang's Christmas pageant.

Uncle Traveling Matt

Mike Quinn manipulates Uncle Matt dressed as Santa for a French Postcards from Traveling Matt segment.

Waldorf

Waldorf plays the role of Santa in the Muppet Babies comic book adaptation of "A Visit from St. Nicholas".

Wilkins

Wilkins Coffee commercial

Wilkins plays Santa, with Wontkins as his reindeer.
Santa hats
Santa Claus in books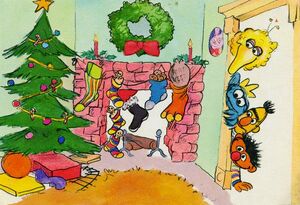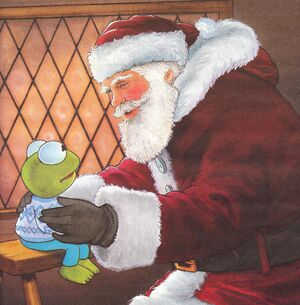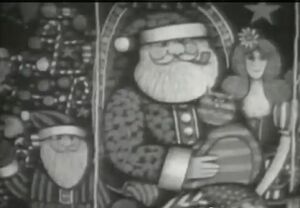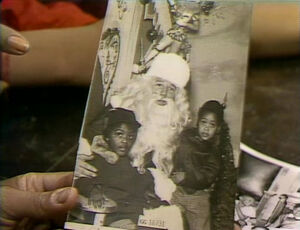 Santa Claus appears in a number of Muppet and Sesame Street books, including:
The Sesame characters visit Santa Claus at P.C. Nickles Department Store in:
Muppet characters also pretend to be Santa in other books:
References
In Christmas Eve on Sesame Street, Oscar asks Big Bird and Patty how Santa Claus can deliver presents on Christmas Eve if he can't fit through the narrow chimneys on Sesame Street. Kermit and Grover interview various kids on the subject trying to help solve the mystery. Eventually, Big Bird decides to stay up all night on the roof to wait for Santa Claus. Although jingle bells and footsteps are heard when Big Bird falls asleep, Santa Claus is not actually seen. Meanwhile, Cookie Monster tries repeatedly to write a letter to Santa Claus, and speaks to him by shouting into his belly after having eaten the telephone on which he had dialed Santa's number.
When Big Bird realizes that every grown-up was once a little kid in Sesame Street Episode 2621, he notes that that applies to Santa Claus as well.
In Muppets from Space, Gonzo hears a voice outside his window when he wakes up. Approaching, he asks, "Rizzo?" Rizzo replies, "No, it's Santa. But I forgot my reindeer."
A betting form posted on the door of Pepe's stateroom aboard Disney Cruise Line's ship, the Disney Fantasy, lists Sandy Claws as one of the competitors of Pepe's Crab Races.
Connections
The following actors, who have appeared in Muppet/Henson productions, have portrayed Santa in other film or television appearances.
Sources
External links