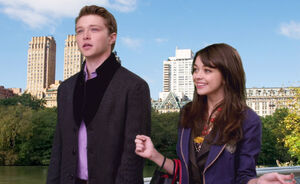 Sarah Hyland (b. 1990) is an actress best known for playing Haley Dunphy on the ABC comedy Modern Family.
Hyland appears in a scene deleted from the theatrical cut of The Muppets. She plays a girl seen on a TV series called "Credit Card Club", shown by Veronica to the Muppets as an example of CDE programming.
Hyland's Modern Family costar Rico Rodriguez also appeared in the movie, showing up with Whoopi Goldberg and Selena Gomez to lend star power at the Muppet Telethon.