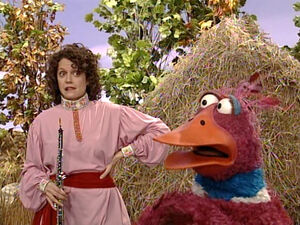 Sarah Knowlton is an actress whose most substantial role to date has been as Hal in the first season of the NBC sitcom Working (1997-1998)
Knowlton appeared in the Sesame Street direct-to-video special, Elmo's Musical Adventure: Peter and the Wolf, as the featured oboe player in the Boston Pops. She continues to portray the oboist in Baby Bear's imaginary version of the story, accompanying the character of the duck (played by Telly Monster).
Her other on-screen credits include roles in Law & Order, Whoopi, Ugly Betty and Desperate Housewives. On stage, Knowlton portrayed Claire DeLoone in the Broadway musical On the Town.
External links