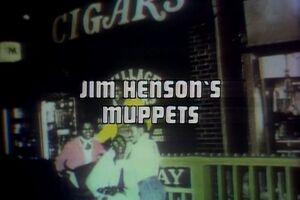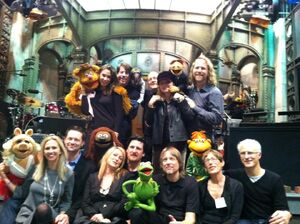 Saturday Night Live is a late-night sketch comedy series which premiered on NBC on October 11, 1975, and introduced a number of new comics and distinctive, recurring characters -- much like Rowan & Martin's Laugh-In years earlier, but with an edgier, late-night sensibility. The Muppets were regular performers in the first season of Saturday Night Live (1975-76).
The Land of Gorch
For more information see The Land of Gorch
Jim Henson's Muppets were regular performers in the first season of Saturday Night Live (1975-76). The characters, which were specifically created for the show, appeared in The Land of Gorch segments. Fifteen sketches were produced, featuring performances by Muppeteers Jim Henson, Jerry Nelson, Frank Oz, Alice Tweedie, Fran Brill, and Richard Hunt.
The series of sketches lasted from SNL's first episode to April of 1976 (and became a recurring joke in the show's second season). The book Live From New York by TV critic Tom Shales details the backstage conflict between the writers of the show, who resisted integrating the Muppets into the show during the first year, and the Muppet performers.
Guest Appearances
Image
Description




December 18, 2004 (Robert De Niro / Destiny's Child)
Kermit the Frog sings "Have Yourself a Merry Little Christmas" with Robert De Niro during the opening monologue. Later in the show, Kermit, Gonzo, Fozzie and Animal sing the annual SNL Christmas song, "Christmas is Number One," with Horatio Sanz. All four Muppets (and their performers) are also present at the close of the show when De Niro thanked them for being there. The Muppeteers were Steve Whitmire, Eric Jacobson, Dave Goelz, David Rudman, and Matt Vogel.

Kermit and Robert's duet was later included in the show's 2009 Christmas compilation special, "A Very Gilly Christmas," and the 2012 SNL Christmas Special on NBC. (transcript), (YouTube)




December 18, 2010 (Jeff Bridges / Eminem)
Cookie Monster sings "Silver Bells" with Jeff Bridges during the opening monologue. The appearance references Sesame Workshop's Cookie Monster should host Saturday Night Live! campaign. Cookie Monster, his performer David Rudman and assistant puppeteer Matt Vogel were also present at the close of the show when Bridges thanked Cookie Monster for being there. (transcript) When Rudman arrived at the studios, he's wasn't sure exactly what Cookie would be doing; it wasn't until 11 pm to 1 am that Bridges and Rudman rehearsed. Lorne Michaels commented: "That's early for us." The appearance was liked by the pre-broadcast audience, but the jokes were tweaked and the song shortened. The broken cookie was unintentional, and Rudman/Cookie's line about it being "twice as good" improvised.[1] Their scene was later included in the 2013, 2019, and 2020 Christmas compilation specials.




November 19, 2011 (Jason Segel / Florence + the Machine)
In promotion of the new Muppets movie, Kermit the Frog, Miss Piggy, Fozzie Bear, Rowlf the Dog, Scooter, Gonzo, Camilla the Chicken, Statler and Waldorf appeared in the opening monologue with Segel. (YouTube) Later on, Kermit also did the popular "REALLY?!?!" segment on Weekend Update with Seth Meyers (YouTube), and Rowlf and Gonzo were seen dancing in the "Massachusetts Afternoon" sketch. Muppeteers included Steve Whitmire, Eric Jacobson, Dave Goelz, Bill Barretta, David Rudman, Matt Vogel, and Peter Linz. An image of Scred and Gilda Radner from The Land of Gorch appeared when the Muppets explained that they had appeared on SNL since the beginning. The Jason Segel Muppet is seen during one of the bumper stills. Paul Rudd, Jon Huntsman, Jr. and Florence Welch (from Florence + The Machine) also made several cameo appearances during the show and closed the show in the goodnights, where some of the puppeteers were exposed.

Gonzo's line with Camilla in rehersal was different to the live broadcast. (transcript)

October 6, 2012 (Daniel Craig / Muse)
Big Bird (Caroll Spinney) briefly appeared on Weekend Update with Seth Meyers in response to Mitt Romney's controversial comment made in the presidential debate. (YouTube)

Meyers recalled this appearance in a Corrections segment of Late Night with Seth Meyers in November 2021. "Caroll Spinney came to SNL, did an Update feature with Caroll Spinney. And the most fascinating part about the whole thing was how Caroll Spinney reads his lines, because he can't see the cue cards, because he's in a giant bird costume. And he had a pen light that he held in his mouth, and like a tiny clipboard where he was reading it. And at one point, live, I heard the clipboard drop. And later, Erik Kenward, who's a writer and producer at SNL, said that watching the whole thing was like watching someone operate a Civil War submarine."[2]




April 11, 2015 (Taraji P. Henson / Mumford & Sons)
The Sesame Street Muppets (Count von Count, Elmo, Cookie Monster, Ernie, Bert, a Honker, Big Bird, Snuffy, Murray Monster, the Two-Headed Monster and Abby Cadabby) appear in a sketch with Henson playing her Empire character Cookie Lyon as a guest star on the show.
Visual Mentions & Spoofs
Picture
Description

During the time when the Muppets were still appearing regularly on SNL, Chevy Chase stood in one night when they weren't available. Using the Gorch set, Chase used his bare hands to perform a sketch about a lonely wife and her milkman.

In the October 17, 1981 "SNL NewsBreak" segment, it is reported that Big Bird survived an assassination attempt. Accompanying video uses edited footage from the cast's 1971 appearance on Evening at Pops.

In the November 5, 1983 "Saturday Night News" segment, it is reported that Big Bird died of anorexia.

In the March 30, 1985 episode, a photo of Jim Henson and the Muppets is seen on the wall during the "Fernando's Hideaway" sketch.

In the "64th Annual Nobel Prize Awards" sketch from the October 22, 1994 episode, a mock Kermit presents an award with Nelson Mandela (Tim Meadows).

In a sketch from the December 7, 1996 episode, Barbara Walters (played by Cheri Oteri) interviews Martin Short's Jackie Rogers, Jr. character as he recalls embarrassing moments from his career. One of these is a clip from "The Muppet Christmas Special" (dated 1978), where a drunken Jackie interacts with a mock Miss Piggy puppet, then has intercourse with her.

In a 1996 episode, Bill Clinton (Darrell Hammond) tries to get Bob Dole (Norm MacDonald) to be his Secretary of Transportation by giving him a Tickle Me Elmo.

In the same 1996 episode of "Weekend Update," Norm MacDonald reported that "the number one selling doll this Christmas is Tickle Me Elmo. And the least popular selling doll? You guessed it - Tickle Me Frank Stallone."

In a 2000 Celebrity Jeopardy parody sketch, the last category on the board is "Famous Muppet Frogs." Alex Trebek (Will Ferrell) says, "I should add that the answer to every question in that category is Kermit." Robin Williams (Jimmy Fallon) replies "Yes it's like Kermit and John Wayne goin', 'It's not easy being green, pilgrim.' It's like Schwarzenegger, 'Ya, I'm Kermit the Frog, ya that's me, Schwarzenegger Kermit.'

In a 2001 "Weekend Update" segment, Tina Fey reported that "This week on Sesame Street, U.N. Secretary General Kofi Annan gave Elmo a lesson in conflict resolution. Elmo said he liked the nice man, but still won't let inspectors inside his chemical weapons plant."

In a 2001 "Saturday TV Fun House" segment, which parodies the retool of Emeril Lagasse's short-lived NBC sitcom Emeril. One of the retools has Emeril being on the set of Bear in the Big Blue House and talking to Luna.

In the same segment, Emeril's "son" is seen holding a purple Elmo-esque toy.

In a 2002 "Weekend Update" segment, Jimmy Fallon joked about a real news story stating "A man in Indiana was arrested for stealing a chicken, taking it to a motel, and having sex with it until it died. Police have issued a warrant for this man" - wherein a picture of Gonzo was displayed.

In the 2002 edition of "Christmas is Number One", Tracy Morgan appeared dressed in a giant Chicken Dance Elmo costume.

When Justin Timberlake hosted the show in 2003, he attempted to fulfill a life-long dream - singing with Kermit the Frog. A mock Kermit the Frog puppet appeared behind a brick wall and the two began to sing "Rainbow Connection." But the act morphed into an all-out brawl when Timberlake accidentally stepped on Bill, the puppeteer (played by Will Forte). (Transcript)

In a 2005 "Weekend Update" segment, Amy Poehler reported that "This season's Sesame Street will begin running stories about healthy eating habits with Cookie Monster learning that there are anytime foods like vegetables and sometimes foods like cookies. Executives are also considering changing the characters name to Pilates Monster." A graphic of Cookie Monster doing Pilates was shown, to which Amy commented "Tight abs."

The January 14, 2006 episode featured the sketch "SmorgasbØrd," a fake Swedish cooking show starring Scarlett Johansson and Seth Meyers. The program featured a cut-away commercial in the middle featuring Andy Samberg as the Swedish Chef in an ad for "Swedish Chef Ringtones" (a take-off on the Crazy Frog/Axel F ringtone). The Chef sang in faux-Swedish while an announcer stated "You asked for it. You wanted it. Now here it is, Swedish Chef ringtones. The Swedish Chef - when it comes to Scandinavia, he's what's cooking!"

A "Saturday TV Fun House" segment from the April 15, 2006 episode mocked Disney's direct-to-video sequels of their classic animated films. In the segment, two kids are taken by Mickey Mouse into the Disney Vault. While there, the children unearth a number of the company's dirty secrets, including a bound and gagged Jim Henson and Kermit. Mickey breaks down: "He wouldn't sell! He wouldn't sell....!" (a reference to a broken deal between the Henson and Disney companies circa 1990).

In an October 2006 cartoon by Robert Smigel, President Bush displays a pair of political attack ads the Republicans will use against the Democrats during the upcoming midterm elections. The first ad has Ted Kennedy in a Dracula costume saying he wants to Cut and Run. He then proceeds to French kiss Osama Bin Laden. Barack Obama then appears dressed as Count von Count from Sesame Street counting "One Gay Marriage, etc."

In the January 8, 2007 "Weekend Update" segment, Amy Poehler reported that "new research shows that women think men with square jaws are good short-term partners, while men with softer, rounder faces are perceived as better long term mates. In other words, you date Bert but you marry Ernie." A graphic of the Muppet duo was then displayed.

In the January 20, 2007 episode, in a sketch called "Two A-holes at an Adoption Agency," the female "a-hole" (Kristen Wiig) shows a picture of Baby Gonzo and asks if their new baby can look like him.

In the October 6, 2007 episode, in a sketch called "Rowlf & the Swedish Chef," Rowlf (host Seth Rogen) and the Chef (Andy Samberg) introduce themselves on the main stage. Rowlf, at the piano, offers to play "Rainbow Connection," but the song gives the Chef a bad recollection of being asked by Celine Dion to perform it. They are joined on stage by Animal (Bill Hader), Zoot (Fred Armisen) and Janice (Maya Rudolph), for a none-too-subtle performance of "Beyond the Sea."

The Muppet Movie was spoofed on April 4, 2009 in a sketch called "Muppet Bus", with Seth Rogen once again playing Rowlf the Dog. Other cast members appeared as other Muppets -- characters included Fozzie Bear (Jason Sudeikis), Gonzo (Bobby Moynihan), Camilla, Kermit the Frog (Will Forte), Beaker (Kristen Wiig), The Swedish Chef (Andy Samberg), Animal (Bill Hader), Zoot (Fred Armisen) and Janice (Michaela Watkins). In the sketch, the Muppets sing "Movin' Right Along" as they barrel down the highway in the Electric Mayhem Bus. The fun turns dark when Rowlf hits somebody with the bus, and keeps driving. (Animal screams, "Hit and run! Hit and run!") The bus gets pulled over by a cop, which turns out to be a cameo by Nipsey Russell (Kenan Thompson). Zoot shoots the cop, and Rowlf drives away. They sing "The Muppet Show Theme" as they head for Mexico.

The same episode includes Fraggle Rock as the address for a CD mail-away.

In the Weekend Update for November 14, 2009, Seth Meyers reports that New York City declared November 10 as "Sesame Street Day" and temporarily named a street after the show, "but if anyone pops out of a trash can there, don't stop and chat with them."

The opening monologue for Blake Lively's December 6, 2009 show commented on her meeting the Muppets at the Christmas in Rockefeller Center after party. Andy Samberg, dressed as the Swedish Chef then appeared, followed by other cast members dressed as Animal (Bill Hader), Fozzie (Jason Sudeikis), Gonzo (Bobby Moynihan), Beaker (Kristen Wiig), Zoot (Fred Armisen), and Janice (Jenny Slate).

In that same episode's Weekend Update, Seth Meyers spoke about Cookie Monster's appearance on The Tyra Banks Show for the 40th anniversary of Sesame Street.

On September 25th, 2010, musical guest Katy Perry appeared wearing an Elmo T-shirt in a Bronx Beat sketch with host Amy Poehler and special guest Maya Rudolph, lampooning the controversy around the Hot and Cold musical video of Sesame Street.

SNL Digital Short. See The Lonely Island.

During the November 5, 2011 edition of Weekend Update, Seth Meyers referred to a then-recent study on how people who say they feel happy live 35% longer than those who are less happy, remarking "which means that eventually, Ernie will have the house to himself."

During the October 6, 2012 Weekend Update (before Big Bird's appearance), Seth Meyers mentions Mitt Romney's PBS remark, saying it's a shame, as "Mitt" would make a great Muppet name. He adds that since borrowed money from China is what funds PBS, he now understands why "Sesame Street was brought to you by the letter this," displaying a Chinese character.

During the opening monologue in the October 13, 2012 episode, host Christina Applegate performs a song about the lack of holidays during early autumn. Bill Hader, Kenan Thompson and Bobby Moynihan appear, bringing out puppet characters called "The Fruppets" (including Kirby the Toad, Fozzie the Badger and Gronzo, "a weird sick little rat thing"), who have specials this time of year to combat the many Muppet Christmas specials. They also have a Swedish Chef knock-off - The Dane Cook (portrayed by Jason Sudeikis).

Robbie Sinclair from Dinosaurs appears in the Infinity + 5 music video "First Got Horny 2 U" during the 2015 episode hosted by Elizabeth Banks. Footage from the episode How to Pick Up Girls is shown on the TV.

During the cold open on the October 22, 2016 episode, parodying the October 19, 2016 Presidential debate, Hilary Clinton (Kate McKinnon) reveals her Trump Bingo card of things he's said, with Miss Piggy as the center square.

During a sketch on the April 7, 2018 episode with Aidy Bryant and Cardi B, a schedule board of sketches listed one called Sesame Street involving three writers of the show.

During a sketch on the October 13, 2018 episode, an imprisoned Bill Cosby (portrayed by Kenan Thompson) shows his cellmate (host and former cast member Seth Meyers) a hole he dug with two spoons behind a poster of Animal (but due to Cosby's poor eyesight, he thinks it's a poster of Dizzy Gillespie).


A later bumper after Weekend Update shows a nervous Meyers surrounded by people in homemade Elmo, Cookie Monster, Statue of Liberty and Mickey Mouse costumes.

During a sketch on the February 17, 2019 episode, contestants on a baking show are tasked with making iconic cartoon characters. A contestant (played by Don Cheadle) bakes Cookie Monster. It then comes to life.

A pre-filmed mockumentary segment (cut from the March 9, 2019 episode, but published online) centers on a struggling new SNL cast member named Adam Zekeman (played by actual cast member Kyle Mooney). At one point, Zekeman comments on hearing his name in the intro, leading to a cutaway spoofing the opening cast montage, where he's seen tickling the armpits of a costumed Elmo.

The October 12, 2019 episode featured a film trailer parody of Joker titled Grouch, telling the gritty origin story of Oscar the Grouch, with host David Harbour playing a humanized Oscar in the vein of Joaquin Phoenix's portrayal of the Joker.

Other humanized Muppets, as played by cast members, include Guy Smiley (Bowen Yang) anchoring ABCDEFG News, Snuffy (Kenan Thompson) as a pimp and Prairie Dawn (Chloe Fineman) as his prostitute, Ernie (Mikey Day) and Bert (Alex Moffat) being confronted at knifepoint over Ernie's Rubber Duckie, Big Bird (Heidi Gardner) as a stripper, The Count (Beck Bennett) counting his three pills, Cookie Monster (SNL writer Streeter Seidell) as a homeless bum on the streets, and Elmo (Melissa Villaseñor) being arrested and insisting it's because he is Mexican. In framing scenes, Oscar talks to therapist Susan Robinson (Ego Nwodim). In addition, Oscar's trash-collecting colleague (Chris Redd) is named Grover (though he doesn't appear to be a specific parody of the Muppet).

The April 11, 2020 episode hosted by Tom Hanks was shot entirely at the cast members' homes due to the COVID-19 pandemic. A Grover doll is seen in the opening credits at Colin Jost's home, and a Cookie Monster doll and his dressing room door sign from Sesame Street is seen in Michael Che's home during the Weekend Update segment.

The October 31, 2020 episode hosted by John Mulany features a sketch about Big Nick's Souvenirs in New York Times Square during the pandemic. Alex Moffat plays Times Square Elmo.

During the February 27, 2021 episode edition of Weekend Update, Colin Jost does a joke on the disclaimers regarding negative stereotypes added to The Muppet Show on Disney+. He thinks having offensive content will make viewers think they can finally get to see Gonzo have sex with a chicken.




A sketch from the May 15, 2021 episode features an excerpt from The Muppet Show (as aired on Disney+). Kermit the Frog (Kyle Mooney) welcomes guest star Lily Tomlin (Melissa Villaseñor), who questions why she would ever do the show. Statler and Waldorf (voiced by Beck Bennett and Mikey Day) do their usual heckling until a pair of security men (Kenan Thompson and Keegan-Michael Key) warn them multiple times to stop, pointing out the hard work of "Kramer the Dragon" and his friends. When the duo continue their insults the security men make their way up to the balcony seats, and Key pummels Statler until he develops swollen eyes (visibly startling Waldorf).

After the bouncers attempt to carry the old men out of the theater, they notice they have no legs. (Thompson: "We didn't know that y'all was veterans.") The bouncers admit that they're not fans of the show either, citing penguin and chicken feces backstage, and join Statler and Waldorf in their insults.

Multiple media outlets incorrectly reported that the sketch was an appearance by the Muppets themselves,[3][4] as did at least one international broadcaster.[5]

Michael Che reported on a plastic surgeon posting to TikTok about how it's true that the size of a person's nose is related to the size of their penis in the November 6, 2021 edition of Weekend Update. Che commented, "Oh, so that's why Camilla's smiling."

The November 13, 2021 episode features a cold open sketch mocking senator Ted Cruz's response to Big Bird's tweet about getting the COVID-19 vaccine. Cruz (played by Aidy Bryant) hosts his own Sesame Street called Cruz Street. The sketch features parody versions of Big Bird (Kyle Mooney), Bert and Ernie (Alex Moffat and Mikey Day) who announce that they're "out and proud," Oscar the "Slouch" (Chris Redd), and the "Re-Count Count" (Aristotle Athari).

In the song "Three Sad Virgins" (from the November 13, 2021 episode), musical guest Taylor Swift sings about Ben Marshall in the bridge of the song, stating that he "looks like if Big Bird lost all his feathers." An image of Big Bird is shown, exploding in a cloud of feathers to reveal an emasculated Marshall.

The January 15, 2022 edition of Weekend Update features an interview with Elmo (Chloe Fineman), following Sesame Street clips of his feud with Zoe's pet rock Rocco going viral. Rocco is then introduced as a guest, and Elmo becomes increasingly perturbed with the special treatment he receives.
Verbal Mentions
In a 1976 episode, Gilda Radner reads a postcard from the Muppets who are vacationing in England (and do not appear in the episode). The postcard says that they were tracing their roots and found the felt factory where their ancestors were built, and that they discovered that they are related to the Loch Ness Monster.
The opening sketch in a 1976 episode featured Chevy Chase (calling from the hospital) instructing Gilda Radner to "walk like a Muppet."
In a Bees sketch that spoofed Peter Pan (November 27, 1976), one of the Bees (Laraine Newman) says that they are "like Muppets with longer contracts."
In a 1977 episode, Baba Wawa (Gilda Radner) interviews Godzilla and asks him if he's Japanese. Godzilla responds, "Uh, no. You know, a lot of people think I'm from Japan, or a Muppet, you know? Actually, I'm neither. Actually, I'm Hawaiian."
In the February 6, 1982 edition of SNL Newsbreak (the name of Weekend Update at the time), Brian Doyle-Murray tells a joke about Bert and Ernie coming out.
In the January 22, 1983 "Saturday Night News" segment,[6] it is reported that a number of films have been banned from Norway. One of them is The Muppet Movie "because during the entire film, Miss Piggy performs with a man's hand up her dress."
In the February 9, 1991 episode, Nat X (Chris Rock) interviews Vanilla Ice (Kevin Bacon). When Vanilla Ice says that he is from the streets, Nat X responds, "What street? Sesame Street?
In the "America's Most Wanted: Former Child Stars" sketch from the March 16, 1991 episode, grown-up child star Rodney Allen Rippy (Tim Meadows) says "I'm in an audition tomorrow - I'll be the voice of a Muppet Baby!"
In a 1997 Celebrity Jeopardy parody sketch, Phil Donahue (Darrell Hammond) responded to the question "This December 25th holiday involves decorating a tree and opening presents" with a monologue on Christmas commercialism (in 14 sketches this was by far the closest any contestant ever came to giving a correct answer), stating, "Little Bobby and little Susie have hung their stockings with care. Mom and Dad are out looking for Tickle-Me-Elmo 'til five a.m., and all of a sudden, Bobby looks up and he says, 'Hey! Who is this Jesus?' (At this point, an exasperated Alex Trebek (Will Ferrell) breaks in with "You know the answer, just say it!") Meanwhile, Kris Kringle is drinking Coke! The reindeer are playing Nintendo! The elves are wearing Nike..."
In a 2000 sketch, the Bloder Brothers, Wayne and Kip (Chris Parnell and Jimmy Fallon), hit on Cindy (Julianna Margulies) while the bartender, Clair (Ana Gasteyer), helps fight the creeps off.
Cindy: Oh, don't worry, Clair. I don't think these Muppets here could hurt me.
Kip: Well, I, for one, just changed my name to Elmo. Tickle me... [laughs]
Wayne: Uh, can you tell me how to get to Sesame Street?
In a 2000 "Weekend Update" sketch, Jacob Silj (Will Ferrell) explains to anchor Tina Fey how his life is affected by his voice immodulation disorder (the inability to control the pitch or volume of one's voice).
Jacob Silj: Imagine being at a high school dance, singing along with everyone else "and a little bit softer now, and a little bit softer now, and a little bit softer now!" Or how about sitting in the privacy of your church confessional and whispering to your priest, "I've had impure thoughts about that hippie puppet in the Muppet Show Band."
Tina Fey: Janice?
Jacob Silj: Janice, yes.
During the opening monologue by host Kate Hudson in the October 14, 2000 episode, Kathy Buzzi Smothers (Rachel Dratch) says her mother, Ruth Buzzi, works for Sesame Street. Kathy says she works for the electric company that Kate thought is the show, but turns out it is an actual electric company where Kathy reads meters.
In a 2001 "Hardball" parody, Chris Matthews (Darrell Hammond) tells Paul Begala (Chris Kattan), "Zip it, Kermit! Go back to Fraggle Rock! Let the grown-ups talk about politics!"
AJ: Yo Baby K, you mackin', you must have all the chicken heads comin' after you.
Free: Yehh, yehhh!
Baby K: What do you mean? Chicken Elmo?
Lady Three: Ooh yeh yeh! He likes that Chicken Dance Elmo. That's a nature rider, I mean he got his pick of the Chicken Dance Elmos in any town.
In a 2002 Christmas sketch, a young boy asks a department store Santa (Robert De Niro) for a Chicken Dance Elmo, to which the snide Santa replied "Chicken Dance Elmo - that's great. You know what's even better? What's a better gift? An environment of emotional maturity."
In a 2004 sketch, Night Terrors (Snoop Dogg) says to Abe Scheinwald (Rachel Dratch), "I like you, weird old dude. You´re like that old Muppet that be hanging in the balcony criticizing people."
In a 2004 sketch parodying "Hardball with Chris Matthews," Matthews (Darrell Hammond) commented on Mary Beth Cahill's (Amy Poehler) wide-eyed appearance, stating "I haven't seen eyes like that since Jim Henson glued 'em to a sock."
The February 4, 2006 episode, three Hamas leaders (played by Fred Armisen, Bill Hader, and Seth Meyers) tell Steve Martin that they are fans of "all three" of Martin's movies: The Jerk, The Man with Two Brains, and The Muppet Movie.
The opening of the March 1, 2008 episode featured a satire of the motion picture Juno and its rather hip dialogue such as "honest to blog." Screenwriter Diablo Cody (played by Andy Samberg) asks Ellen Page (playing herself), "What is your dental damage, Kermit the Blog?"
The March 8, 2008 episode featured a skit with cast member Kristen Wiig's character Penelope, who has a habit of one-upping the people around her. Amy Adams' character is a traffic school teacher who finally gets fed up with student Penelope and says, "You know what Penelope, Penelope I have had enough . . . I guess now's a good time to tell everyone I'm friends with Kermit the Frog. What do you think of that? . . . " Penelope responds that "Um, guess I'll say that, um, I'm best friends with all Muppets. Including Scooter, so, I was invited to all of their weddings, so . . . "
The January 10, 2009 episode featured a skit with Kristen Wiig's recurring character Penelope, a habitual braggart with a compulsive need to one-up everyone around her. Amid her outlandish claims, Penelope states that she used to be a puppet and was on Fraggle Rock.
In the Weekend Update for February 14, 2009, Angie Tempura (Kristen Wiig) appears to give her insight on who should or who should not win the Oscars. When she gets to who should not win, she refers to the Oscars as the Oscar the Grouch awards.
In the Weekend Update for March 6, 2010, Will Forte sings a song about women in the workplace for Women's History Month, which included the lyric, "Miss Piggy, talking pig."
In the Weekend Update for December 11, 2010, Stefon (Bill Hader) shares some of the hottest spots in New York for Christmas, which included "An entire room of Puppets doing karate (...) because its that thing that when someone calls Miss Piggy fat and she goes "HAYA!!!!!!". Later, reciting a version of The Twelve Days of Christmas, he includes the line "Five Homeless Elmos."
In the January 9, 2011 episode, an impressionist-turned-psychic played by Jim Carrey channeled Kermit the Frog and Miss Piggy, despite the fact that they are neither dead nor human.
During the opening monologue by host Alec Baldwin in the September 24, 2011 episode, Baldwin mentions that he has beaten Steve Martin in the number of hostings for SNL. He comments on Steve's talent by saying "What's that thing he plays, that round guitar thing that Kermit the Frog plays?...the banjo, yeah."
At the end of a segment featuring Jimmy Fallon in the December 17, 2011 episode, Fallon and his reflection (Andy Samberg) sings a verse of "The Rainbow Connection."
During Seth MacFarlane's opening monologue in the September 15, 2012 episode, he sang a song about hosting the show and his voices and impressions, and at one point, broke into a Kermit the Frog impression.
During a Family Feud sketch in the December 21, 2013 episode, Steve Harvey (Kenan Thompson) calls Ashton Kutcher (Taran Killam) a Muppet because of how he talks.
During a sketch in the February 1, 2014 episode, a repair woman (host Melissa McCarthy) gets into a fight with a Frida Kahlo model (Nasim Pedrad), whom she refers as "Latino Bert from Sesame Street."
In the "Puppet Class" sketch from the October 11, 2014 episode, George (Bobby Moynihan) says he has always dreamed of performing on Sesame Street and then sings "can you tell me how to get..." Anthony Peter Coleman (Bill Hader), a traumatized war veteran, finishes the line as "...how to get the nightmares to stop" using his look-alike puppet Tony.
During an appearance from recurring Weekend Update guest Drunk Uncle (Bobby Moynihan) on October 25, 2014, he puts a trash can on his head and asks co-anchor Colin Jost what his Halloween costume is. Jost responds with Oscar the Grouch, but Drunk Uncle says he's America.
During the cold open on the February 11, 2017 episode, White House Press Secretary Sean Spicer (played by guest star Melissa McCarthy) reads from a list of fictitious incidents he claims haven't been covered by the press, including "the slaughter at Fraggle Rock."
During the cold open of the May 18, 2019 episode, which features Donald Trump (portrayed by Alec Baldwin) and his associates singing a parody of Queen's "Don't Stop Me Now," Trump's sons Donald Jr. (Mikey Day) and Eric (Alex Moffat) enter inquiring why they weren't invited to sing. Once their father lets them, Eric begins singing "The Muppet Show Theme."
In a sketch in the October 3rd, 2020 episode, Chris Rock identifies people in a COVID spread event at a name changing center and one of the names is "BurtonErnie."
References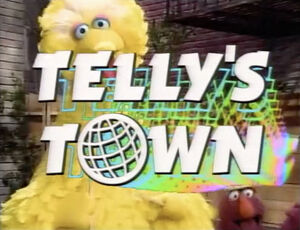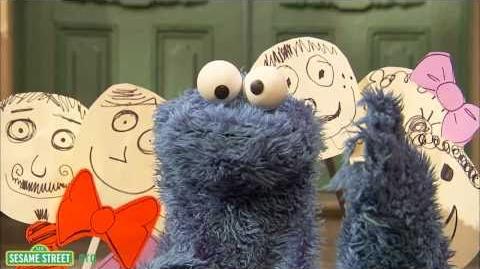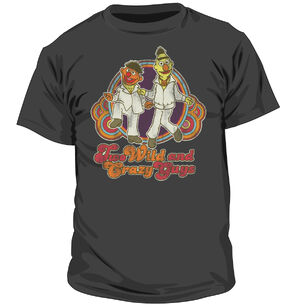 In the Muppet Babies episode "Muppets Not Included", Baby Gonzo takes orders in a diner and yells out "Cheeseburger! cheeseburger! cheeseburger!" referencing the "Olympia Cafe" sketch that recurred from 1978 to 1979.
Episode 3368 of Sesame Street featured a spoof of the recurring Saturday Night Live sketch (and films) "Wayne's World", entitled "Telly's Town." In the episode, Telly and Big Bird put on a show similar to "Wayne's World" - and acting similar to Wayne and Garth. Mike Myers (as Wayne) appeared as a tuba deliveryman in the episode, as well. A monster resembling Garth appears at the end of the episode, playing in the band.
In Miss Piggy's Rules, Miss Piggy gives a breakdown of shorthand used in personal ads, among which are the initials SNL (used for Saturday Night Live).
A sketch from season 30 of Sesame Street features Telly as "King Telly-Tut," singing about his triangle-loving Egyptian ancestor in a musical number which parodies Steve Martin's famous "King Tut" routine from the SNL episode he hosted on April 22, 1978.
The 1999 Sesame Street CD-ROM game Music Maker features a section called "Ernie's World," where a cap-wearing, guitar-holding Ernie hosts a music show from inside a basement (ala "Wayne's World").
In the 2005 pilot for The Muppet Spotlight, Dr. Bunsen Honeydew and Beaker invent celebrity, custom iPods. Their Ashlee Simpson model is designed with a built-in lip-sync feature, referencing Simpson's infamous appearance on the show on October 24, 2004, where it was revealed she was lip-syncing her musical performances.
The Sesame Street resource video The Get Healthy Now Show features a group of healthy foods, who call themselves "The Not Yet Ripe Fruit and Vegetable Players," referencing The Not Ready For Prime Time Players.
In early Sesame Street appearances, Hansel and Gretel spoof Saturday Night Live's "Hans and Franz" by saying "We just want to drop *clap* bread crumbs" with thick Austrian accents.
Connections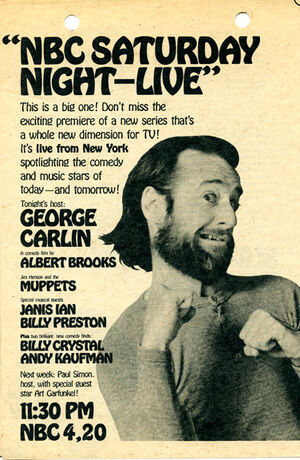 "Motherlover", a song by Justin Timberlake performed on SNL, was nominated at the 61st Annual Primetime Emmy Awards, versus "I Wish I Could Be Santa Claus", from A Muppets Christmas: Letters to Santa. Both lost to Hugh Jackman's opening number at the 81st Annual Academy Awards.
Cast & Crew
Hosts and Musical Guests
See also
External links
Sources