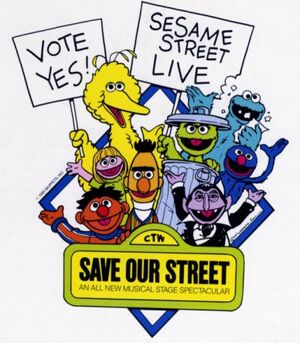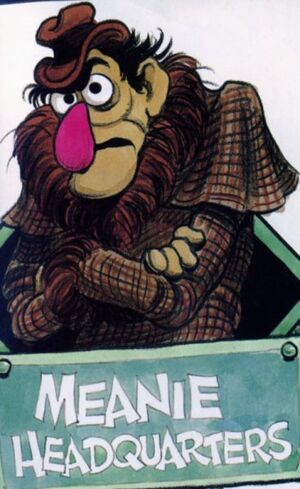 Save Our Street is a Sesame Street Live show first produced by VEE Corporation in 1985-1986, and repeated for a 1986-1987 tour.
Story
Mr. Meanie wants to turn the most famous street in the world into a parking lot. While the gang is having fun at the fair, Mr. Meanie puts his plans into action to tear down Sesame Street. Will the gang be successful in saving their street?
Cast
Big Bird, Oscar the Grouch, Bert, Ernie, Grover, Cookie Monster, Guy Smiley, Count von Count, Snuffleupagus, Prairie Dawn, a Honker, Mr. Meanie, The Meanie Birds, Granny, Teenager and Pinkie Monster.
Voices
Songs
Yeah Boo
Giggles and Googles
Axel F
(I Stayed) Too Long At the Fair
Sesame Street is the Bestest Street
I'm the Meanest Man I Know
There's Something About You I Like
Voting
Haunted House Rock
Sesame Street Blues
Sesame Street Fair
Sesame Street Rollercoaster
Big Bird's Laughing Lady
Sesame Street Square Dance
Production Credits
Music Director: Paul Walberg
Dialog Editing, Music Recording & Mixing by Allen Kaufman
See also